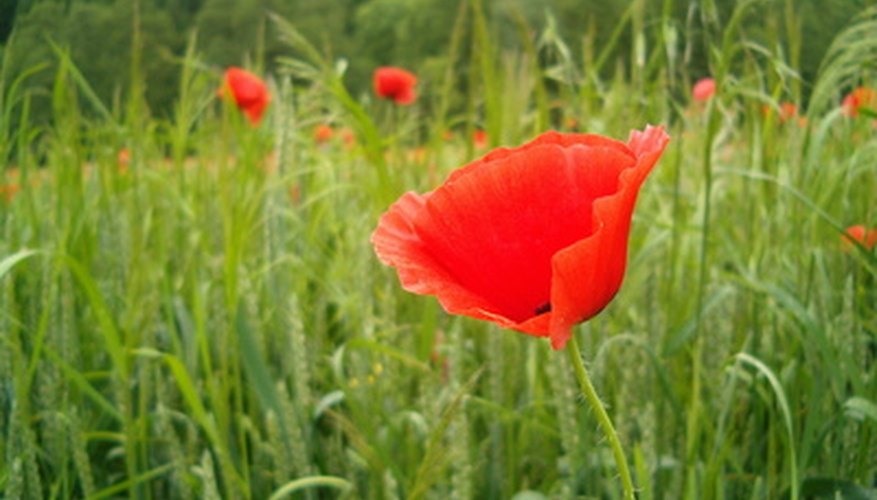 Sun-loving flowering plants are great for those areas of the landscape that get at least 6 hours of direct sun per day. Flowering plants in these spots can really show their foliage and blooms off due to always being in a "spotlight" of sorts. Full-sun flowering plants can be annuals or perennials in a range of colors and heights.
Orange Cosmos
Cosmos sulphureus, known as the orange cosmos, is from the aster/daisy family. It is an easy-to-grow, drought-tolerant annual that is fast growing and attractive to butterflies. It gets 1 to 7 feet tall with yellow or orange flowers that bloom 2 to 3 inches wide. Leaves are green and feathery. Plant orange cosmos in well-drained soil in bright sun. Propagate via seed in U.S. Department of Agriculture Plant Hardiness Zones 5 through 10.
California Poppy
California poppy (Eschscholzia californica) is from the poppy family. It is an easy-to-grow annual that gets 12 inches tall with 2- to 3-inch flowers. Blooms are yellow, red or orange. Leaves are grayish and fern-like. Plant a California poppy in well-drained, poor soil in full sun. Propagate via seed in USDA zones 5 through 10.
Nasturtium
Nasturtium (Tropaeolum majus), an annual also known as Indian cress, is easy to grow an attractive to hummingbirds. Pale green leaves are 2 to 5 inches wide with 1 to 2 inch wide flowers. Flower colors and sizes vary according to cultivar. Plant a nasturtium in full sun in light sandy soil. It will tolerate light shade. Propagate via seed in hardiness zones 4 through 11.
White Wild Indigo
White wild indigo (Baptisia alba), or white false indigo, is from the bean family. It is a drought-tolerant perennial that gets up to 4 feet tall and 4 feet wide. Leaves are blue-green and flowers are 12- to 18-inch spikes of blooms. Plant a white wild indigo in full sun to partial sun in well-drained soil. Propagate via seed or division in hardiness zones 5 through 9.
Summer Snowflake
Summer snowflake (Leucojum aestivum), or giant snowflake, is from the amaryllis family. It is an easy-to-grow perennial with strap-like leaves and flowers that are bell-like and 1 inch wide. Plant a summer snowflake in full sun in any well-drained soil. Propagate via division in USDA zones 4 through 9.