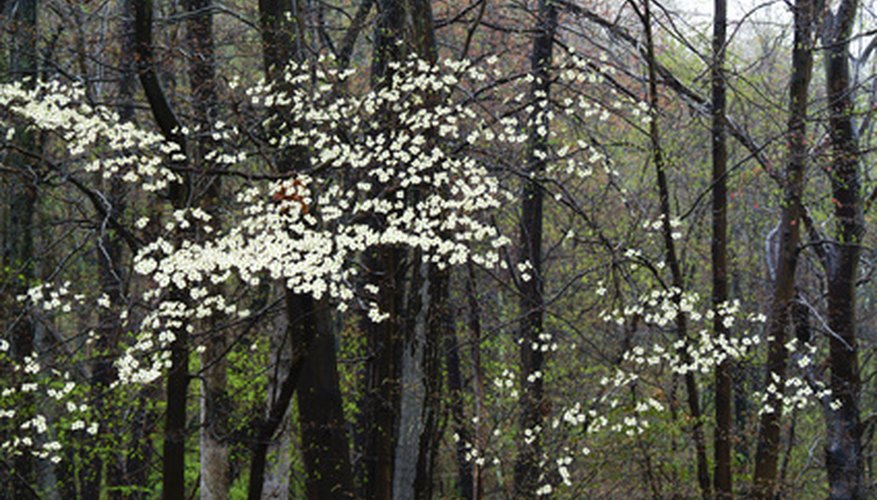 dogwoods in the rain image by Jorge Moro from Fotolia.com
Encompassing the Great Lakes region, the upper Mississippi River Valley, and an enormous section of the Great Plains, America's Midwest is a land of industrial centers and vast farmlands. This heartland, however, still has its share of wild places. During the spring and summer, wild flowering trees crown the Midwestern woodlands, fields, and prairies with clouds of color. Many of these trees make vibrant additions to Midwestern home gardens.
Southern Catalpa
While its name might be misleading, southern catalpa (catalpa bignonioides) grows wild in the woodlands and wetlands in half of the Midwestern states. Belonging to the trumpet-creeper family, southern catalpa is a relatively small tree of between 25 and 40 feet. Its equal or greater spread, however, makes it an excellent shade tree.
Southern catalpa has distinctive heart-shaped light green leaves up to 1-foot wide. Its most appealing feature, however, is its late spring and early summer bloom. The trees are covers with clusters of 10 to 20 2-inch-wide trumpet-like white flowers. The flowers' throats are marked with yellow and purple splotches and stripes.
Southern catalpa trees are available at nurseries. Plant them in moist soil and part shade where their fallen flowers and seedpods won't be a problem and their spreading branches have plenty of room.
Parsley Hawthorn
Growing along roadsides, on woodland edges and sandy hills, and in thickets and fields, parsley hawthorn is one of the earliest blooming hawthorns. It produces fragrant clear white 1-inch flowers in May and June. Red berries follow. While the delicate parsley-like foliage for which it gets its name is an attractive feature, its long thorns are a drawback.
Parsley hawthorn trees, reaching up to 25 feet, will form nearly impenetrable thickets if planted closely together. They provide excellent bird and wildlife cover. Trees aren't fussy about light conditions and will tolerate dry soil. They are, however, susceptible to rust so don't plant them near red cedar, which is a rust carrier.
Flowering Dogwood
Flowering dogwood (Cornus florida) fills the woods, thickets and stream beds of Ohio, Michigan, Illinois, Indiana, Missouri and Iowa with clouds of white between March and May. The fragrant blooms attract birds and butterflies, and its red fruit is food for deer and other wildlife. Dogwood trees also provide brilliant scarlet autumn color.
Growing up to 40 feet with widely spreading horizontal branches, flowering dogwood can be a spectacular addition to spring bulb gardens. It prefers partly shady to shady locations with rich, well-drained acid soil. Sandy or loamy soil is best. Feed trees in spring and autumn with an acid-loving plant fertilizer and prune in the early spring to maintain its shape. Flowering dogwood is widely available at nurseries.