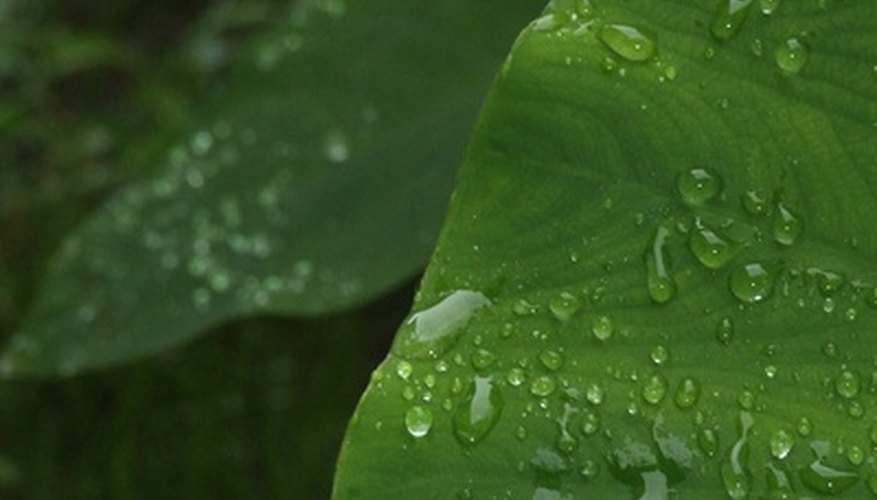 Several tropical foliage plants share the common name "elephant ears," but only one, Colocasia, is usually called "giant elephant ears." Colocasia esculenta, also known as taro, is the most widely grown species. Individual elephant ears plants are usually between 3 and 6 feet tall, bearing broad, elephant ear-shaped leaves up to 2 feet long. Depending on the variety, the leaves can be either green or purple-black with prominent veins. With the rise in popularity of all kinds of tropical plants, even gardeners in cold winter zones have used elephant ears in home landscapes. Rather than buying the large corms anew every year, many gardeners store them indoors over the winter.
Dig up the large corm after the first frost, when foliage is dying. It is not necessary to remove remaining foliage.
Check for evidence of insects or disease, then place the corm on newspaper and allow it to cure in a cool, dry, shady place for several days.
Label the paper bag, and fill it halfway with vermiculite.
Brush excess soil from the corm, clip off dead foliage remnants and place it in the bag. Cover with vermiculite, fold the top of the bag closed and staple to seal.
Store the bag in a cool, dry location where the temperature stays above 40 degrees Fahrenheit. In mid-January, open the bag and inspect the corm to make sure rot has not set in. Reseal the bag.
Repot the corm in a large pot full of fresh potting soil in spring, when nighttime temperatures no longer fall below 50 degrees Fahrenheit, and place the pot outside; or plant the corm directly into the garden.