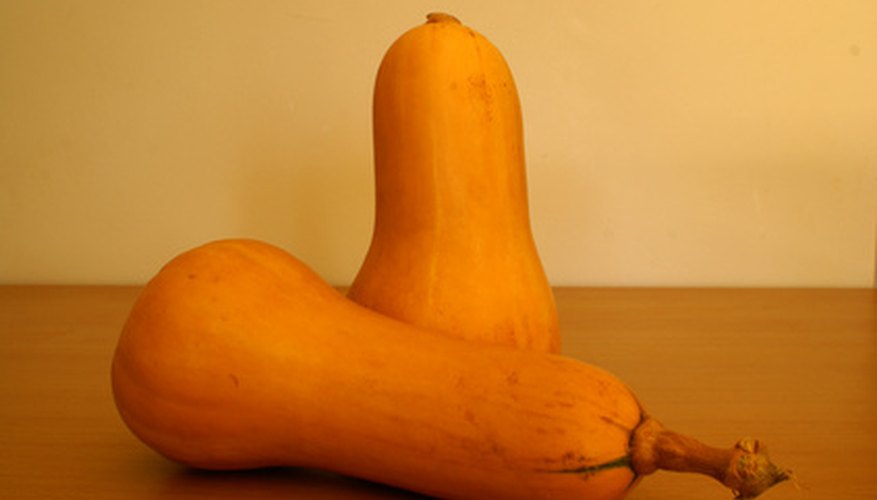 Butternut squash, a hardy winter vegetable which looks like a beige, overgrown pear, is a good-keeping and nutritious crop to grow. Give your squash patch plenty of room, unless you choose a compact variety. The vining plant can be trellised, but because the "fruits" of each squash plant grow to several pounds each, most gardeners opt for letting the vines scramble on the ground.
Nutritional Analysis
The University of Illinois Extension estimates that 1 cup of cooked butternut squash contains 79 calories and is a valuable source of fiber, complex carbohydrates, iron, potassium and niacin.
Planting
Choose a sunny site with well-tilled soil. Squash plants thrive on nitrogen, so incorporate manure, liquid fish emulsion or compost throughout the patch. If using synthetic fertilizer, add a handful of 5-10-5 to the planting hole before setting in the seedlings or planting the seeds directly.
For best results in Northern climates, start plants indoors four to six weeks before the last frost date. Use peat pots to grow the seedlings to avoid disturbing the root systems while transplanting; the peat pots will decay naturally during the growing season. In Southern climates, plant several seeds in circles about 4 feet apart, and thin to the strongest seedling. Plant the seeds 1 inch deep in pots or in the ground.
For row gardening, establish seedlings 4 feet apart, in rows at least 7 feet apart. If planting in a raised bed or in a grid pattern, keep 5 feet between plants in all directions.
Companion Plants
Native American tribes planted corn and pole beans with winter squash or pumpkins, a practice still followed by some modern gardeners. The pole beans add nitrogen to the soil. Butternut squash and other vining squash varieties help both corn and beans with their broad leaves, which act as a living mulch, and prickly vines, which raccoons do not like to step upon.
To help combat the squash vine borer, which attacks vulnerable younger plants, consider planting a few radishes and nasturtiums nearby. These plants apparently repel the flying pests.
Growing and Harvesting
As the squash fruits emerge, slide piles of mulch, bricks or blocks of wood under them to prevent rotting from contact with the ground.
Harvest butternut squash before the first frost. Using a sharp knife, cut off a few inches of stem along with the squash. If you plan to store your squash for a long period, handle the fruits carefully and place them to cure in the sun for a few days. Store them in a dry, cool basement or garage. Garden writer Barbara Damrosch suggests wiping the squash with a bleach solution--10 parts water to one part bleach--before storing them; this may protect them from mildew. "Varnishing" the squash with salad oil may also help.
Cooking
Although butternut squash can be peeled with a sharp peeling tool and a certain amount of patience, an easier method is to cut the squash in half, place the half cut-side down on a cookie sheet, bake at 350 degrees F for at least 30 minutes, and scoop out the inner flesh once it cools slightly. Mash the squash and serve with butter or olive oil. Pureed butternut squash also substitutes well for pumpkin in muffins, pies, breads and other sweet recipes.
Varieties
The University of Illinois recommends Butterbush, a compact variety for those with limited space; Early Butternut, Ponca and Supreme for those with shorter growing seasons; Ultra for large fruits; Zenith for high yield; and Waltham and Puritan for good all-around production.