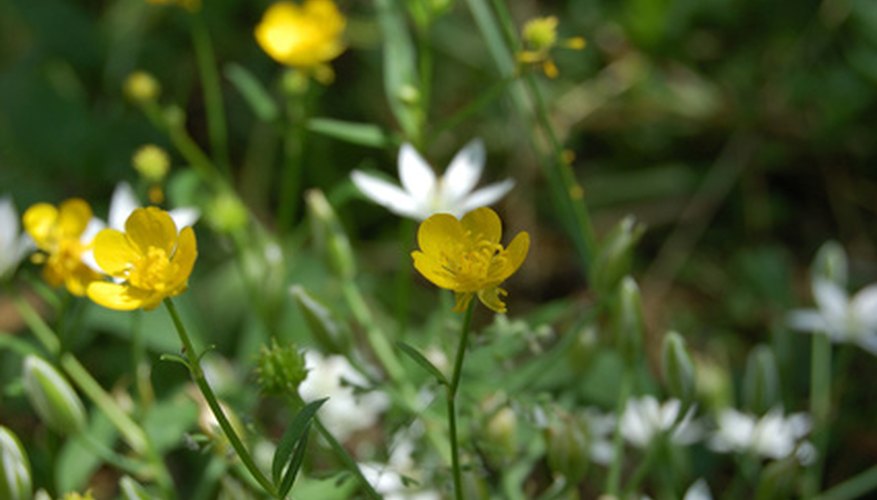 Michigan's wildflowers can keep a Michigan home garden glowing with color and perfumed with fragrance from March to autumn. They also provide the food and shelter to which Michigan's birds and wildlife have adapted over countless generations. They are at home in Michigan's climate and soil, shrugging off pests and diseases that wreak havoc on non-native flowers. They are, quite simply, the shortest path to a low-maintenance and ecologically friendly garden.
Bog Rosemary
Bog rosemary (andromeda polifolia) is a low-growing shrub, with small, greenish-blue leaves. Standing from 8 inches to 3 feet high, bog rosemary blooms in May and June. Clusters of tiny, bell-shaped, pink or white flowers on short, curved stalks droop from the ends of its branches.
Belonging to the heath family, the shrubs grow wild in Michigan's bogs. They prefer organic peat or highly acidic, wet, sandy soil, but are not particular about light conditions. Both disease- and pest-resistant, they spread to cover extensive patches of ground. All parts of bog rosemary are poisonous, according to the Lady Bird Johnson Wildflower Center, if consumed in large quantities.
Golden-Hardhack
Sometimes called potentilla, golden-hardhack (dasiphora fruticosa) is a 3- to 4-foot high--and equally wide--shrub belonging to the rose family. It grows wild in Michigan's limestone-rich areas. It has small, gray-green leaves and showy, bright, yellow flowers that bloom from early June to late September, providing garden color over the entire summer. Butterflies love them.
Golden-hardhack likes dry, neutral pH soil in full sun but is not fussy about soil type. It is highly effective for erosion control and resistant to pests and diseases. This is one of Michigan's classic, easy-care wildflowers. Buy shrubs at your nursery, plant them, and leave them alone.
Trailing Arbutus
Among the most elusive of Michigan's wildflowers, trailing arbutus fills the early March woods with fragrance. It spreads across the forest floor in a mat only 4 to 6 inches high, with glossy, thick leaves and delicate, trumpet-like, white or pink blooms on wiry stems. White berries follow the flowers. Look for trailing arbutus in open areas with peaty or sandy soil and a minimum of leaf cover. Because it does not like to be disturbed, this plant is difficult to cultivate.
If you want to try, find some plants at a native plant nursery. Plant them in a partly shady to shady location with moist, acidic, well-drained soil that is high in humus. Trailing arbutus is an extremely slow grower, intolerant of flooding or drought. Supplying fungi with which the plants can establish mychorrhizal connections--their roots sending carbon to the fungi in exchange for inorganic nutrients--may increase the trailing arbutus' chances of becoming established.