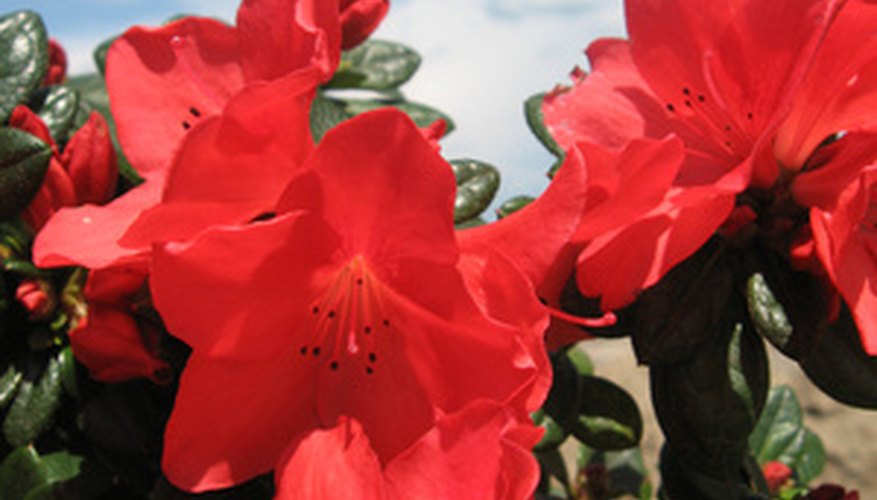 The addition of shrubs to the home landscape lends a feeling of permanence to the property design. Shrubs add consistent greenery and serve as focal points to build around with annuals and perennial flowers. Shady areas present difficulties for the gardener since conditions differ considerably than in sun gardens. Shade areas tend to be drier and experience less air circulation. Landscaping shrubs for shade requires preparation of the soil to create the best growing situation.
Evaluate the type of shade in the planting area to determine the best shrub for the location. Full shade means that no direct sunlight in the area. Partial shade refers to areas exhibiting two to four hours of sun over the course of the day. Light shade areas feature bright light (reflected or direct) despite the generally shady conditions. Purchase landscape shrubs specifically suited to thrive in your particular shade location by checking the planting label attached to each shrub.
Prepare the site by turning over the top 12 to 18 inches of soil using a shovel or cultivator. Loosening and stirring the soil allows shrub roots to spread readily to benefit from increased water absorption in dry shade areas. Beware of surface roots in areas near large shade trees. Don't chop, cut up or till in these areas to prevent extensive damage to the tree. Choose another location for your shade landscape shrub that allows the same amount of light.
Mix in a 3- to 4-inch layer of peat moss or compost into the loosened soil. The addition of organic elements to the soil improves drainage and root health. Organic material also combats compacted soil by improving aeration. Rake the surface smooth before digging the planting hole.
Dig a hole two times as wide and deep as the shrub's root ball to allow for adjustment room and to prevent bending of roots. Clip the twine holding any burlap wrap around the root ball. Loosen the burlap wrapping but don't remove it because it can be planted with the shrub. Clip and remove all parts of any plastic container from the nursery.
Place the shrub into the planting hole to measure the appropriate depth. The top of the root ball should lie 1 inch below the garden surface. Add or remove soil to make this adjustment and position the plant in its final location. Fill in with dirt around the root ball to the garden level and press firmly on the soil. Smooth the surface carefully with a rake.
Water the shrub by allowing a light trickle of water to seep around the root ball for 10 to 20 minutes. Apply a 3- to 4-inch layer of mulch around the shade shrub to retain water in the soil and limit weed growth. Water regularly throughout the first growing season until the plant becomes established.