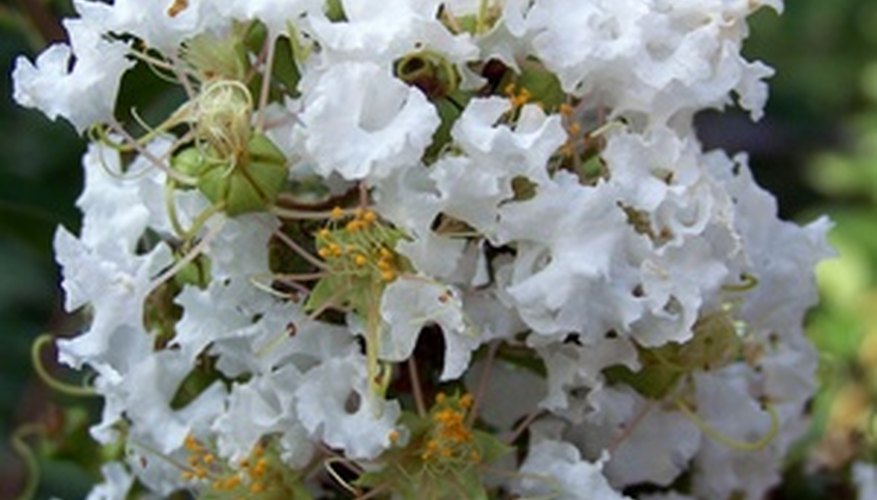 From the Mississippi River floodplain in the Southwest corner of the state to the top of Clingman's Dome in the Great Smoky Mountains, Tennessee is a state of enormous geographical diversity. Gardeners in the state's different regions face different challenges, many of which using Tennessee's native plants will overcome. Tennessee's flowering trees will add color, fragrance and all-season interest to a variety of landscapes.
Crape Myrtle
Crape myrtle (Lagerstroemia indica) puts on one of the most spectacular displays of any flowering tree. Growing up to 40 feet, it produces large summer clusters of white, or shades of pink. Blooms last for two to four months. The petals' crinkled, papery texture gives the tree its name. Some specimens will grow several feet in the course of a summer. According to Floridata.com, crape myrtle prefers full sun and moist soil while becoming established, but can tolerate dryer conditions after maturing. Prune only when crossed limbs or overly-dense growth occur. Removing spent flower heads extends bloom. Fertilize crape myrtle sparingly, or you will promote foliage instead of bloom. Aphids find crape myrtle irresistible, so drench the plants regularly with a soap-and-water solution.
Witch Hazel
Producing an astringent oil familiar to millions of people, witch hazel (hamamelis virginiana) trees deserve a place in Tennessee landscapes. Reaching 30 feet in height with a 25-foot spread, they provide shade as well as garden interest. Leaves, with medium green tops and lighter undersides become a clear yellow in the autumn. Clusters of fragrant flowers appear only after the leaves have dropped, at the end of fall and in early winter. Individual yellow blooms have drooping, curving, narrow petals. The brown, oval fruit is next to emerge. When dry, it splits to hurl seeds up to 30 feet. While wild witch-hazel thrives in the rich, moist soil of Tennessee's woodlands, cultivated varieties do well in slightly-acidic, sandy garden loam. Trees prefer sun but will grow in shade at the expense of density and fall color. Shallow-rooted, they require regular watering. Remove root suckers promptly to prevent the trees from spreading. Witch hazel's cut branches make fragrant additions to winter flower arrangements. Remove remaining seedpods before bringing them indoors. The pods will burst and scatter their seeds in warm, inside air.
Carolina Silverbells
Carolina silverbells (Halesia carolina) reach 30 feet in height and produce delicate, bell-shaped white flowers prior to leafing out in spring. The tree's autumn foliage is yellow. Carolina silverbells grows wild in the Tennessee woodlands, where they thrive in shade and tolerate extended wet periods. These surprisingly tough trees are low-maintenance. Highly pest and disease-resistant, they do well without extra watering or feeding. Plant them in mildly-acidic, well-drained soil in sun or shade. Silverbells work best as specimens near large oaks or in woodland landscapes. They flower just as dogwood blooms begin to fade. Young trees are available at native plant nurseries.