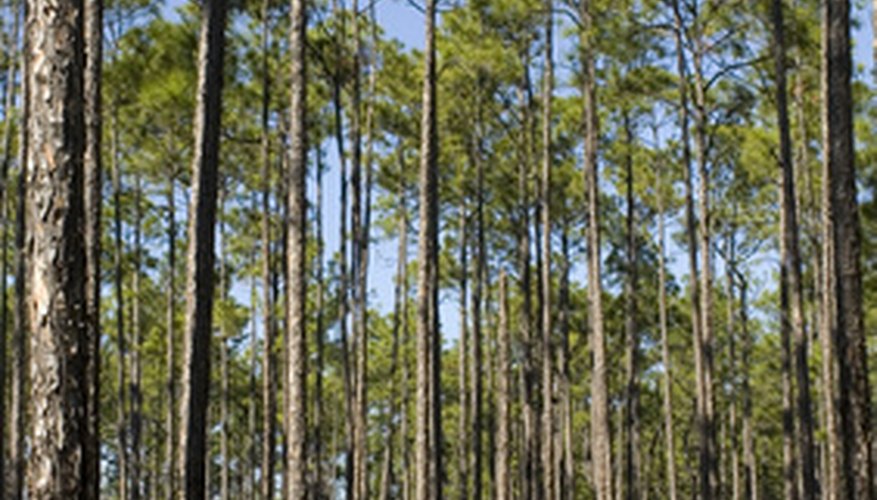 Florida brings palm trees to mind. Although Florida is home to many types of trees, including several oaks and many pines, the list of palm tree types is numerous. Some Florida palms are part of the wild landscape, and others are used as street specimens and as ornamentals in home settings. Florida is made up of three general zones--north, central, and south, and while many of the Florida palms grow throughout the state, some southern Florida species cannot withstand the freezing temperatures found further north in the state.
Saw Cabbage Palm
Saw cabbage palms (Acoelorrhaphe wrightii) grow up to 25 feet tall, but older trees are capable of growing as tall as 40 feet. They have a clustering habit and multi-trunked growth. They can grow from the upper limits of central Florida down through south Florida.
Pindo Palm
Pindo Palm (Butia capitata) is a medium-sized palm tree with a single trunk and curving canopy of fronds. It is commonly seen 20 to 30 feet tall and is grown in all areas of Florida. The fruit of the pindo palm is edible.
European Fan Palm
The European fan palm (Chamaerops humilis) is a medium-size tree, often growing in clumps of several trunks and usually grows in a reclining manner. It usually grows between 3 to 8 feet tall, but can reach 20 feet. This palm has a slow growth rate and grows in all areas of Florida.
Coconut Palm
The coconut palm (Cocos nucifera) is a large, single-trunked tree with a curving leaf canopy. Coconut palms have a rapid growth rate and can be as tall as 80 feet, but are most commonly 40 feet tall. These palms will grow only in the warmest part of the state—limited to south Florida. Coconut palms produce edible coconuts.
Chinese Fan Palm
Chinese fan palms (Livistona chinensis) are single-trunked, coarsely textured trees that can grow up to 30 feet high and 15 feet wide. It grows throughout Florida, except in the "panhandle," northwest part of the state.
Canary Island Date Palm
Canary Island date palms (Phoenix canariensis) are large, single-trunked, upright trees with a stiff canopy of fronds. They grow slowly, but reach heights up to 60 feet tall. They grow in all areas of Florida. They are too large for many home sites, but are sometimes seen as street-side specimens. The fruit of the Canary Island palm develops into very heavy, orange clusters.
Cabbage Palm
Cabbage palms (Sabal palmetto) are native to the eastern United States and can grow in all areas of Florida. Cabbage palms are medium-size trees, with an upright growth habit, and have a dense canopy. They can grow up to 90 feet tall, but are more commonly seen in the 20- to 40-foot range.
Saw Palmetto
Saw palmetto (Serenoa repens) is low-growing and clumping, with many trunks. Saw palmetto spreads into dense colonies over time, and can reach heights of 20 feet but are usually seen from 4 to 5 feet.
Washington Palm
Washington palms (Washingtonia robusta) are large, single-trunked trees, with a loose canopy. They are commonly seen 40 to 50 feet tall, but can reach a height of 80 feet. Washington palms can be grown in all areas of Florida. This tree often has a thick skirt around the base of the canopy, which is often inviting to various Florida wildlife, including snakes and rats.