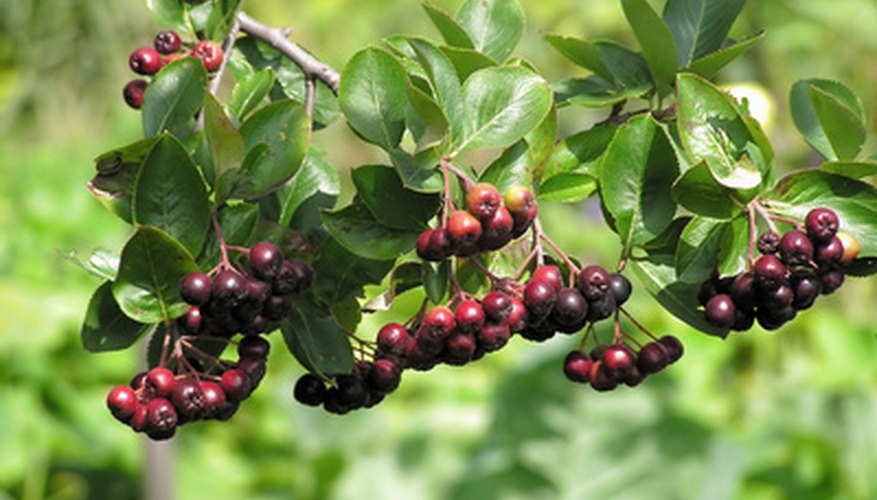 Shrubs that are good for birds provide them with berries for fruit. Plant the shrubs as single-specimen plants or in rows to create hedges. The larger shrubs can be used to create a privacy hedge. However you use the shrubs, be sure to plant them where you can watch the birds as they eat the fruit before it falls to the ground, saving you the job of cleaning up.
Japanese Barberry
Japanese Barberry (Berberis thunbergii) produces red fruit that attract birds. It also produces small purple or red leaves that turn red, orange and yellow, thorns and small yellow flowers. The plant can take all levels of sun and shade and any type of soil. The shrub grows from three to six feet tall and to a spread of four to seven feet. Japanese barberry is hardy in all of the United States, with the exception of the coldest area near the Canadian border in the mid-west and the southern most part of Florida and California.
American Beautyberry
American beautyberry (Callicarpa Americana) is also known as beautyberry and French mulberry. The berries that attract the birds stay on the plant for months, giving them a long-lasting food source. The plant grows from six to eight feet tall and produces yellow-green leaves that grow from six to eight inches. It also produces small lilac-colored flowers that give way to the fruits which are small, grow in clusters and can be magenta, violet or white. American beautyberry is hardy in zones six to ten--from Maryland to southern Florida then across the south and up the west coast and can grow in partial shade or full sun.
American Elder
American elder (Sambucus canadensis) is also known as elderberry and sweet elder and is related to honeysuckle. The berries are not only good for birds, but are edible for humans. The shrub grows from 10 to 15 feet tall and has a spread just as wide. It produces green leaves that resemble a fern and turn yellow red or orange in the fall and small star-shaped white flowers that grow in clusters as wide as 10 inches. Depending on the location, the flowers can bloom from spring through summer or all year long. The plant is hardy in all of the continuous states and in Hawaii. American elder likes moist soils, but can take a dry situation for a short time. It prefers full sun but can take partial shade. Humans use the berries to make pies, jellies and elderberry wine. The flowers are also edible and used to make jams, jellies and elderflower fritters.