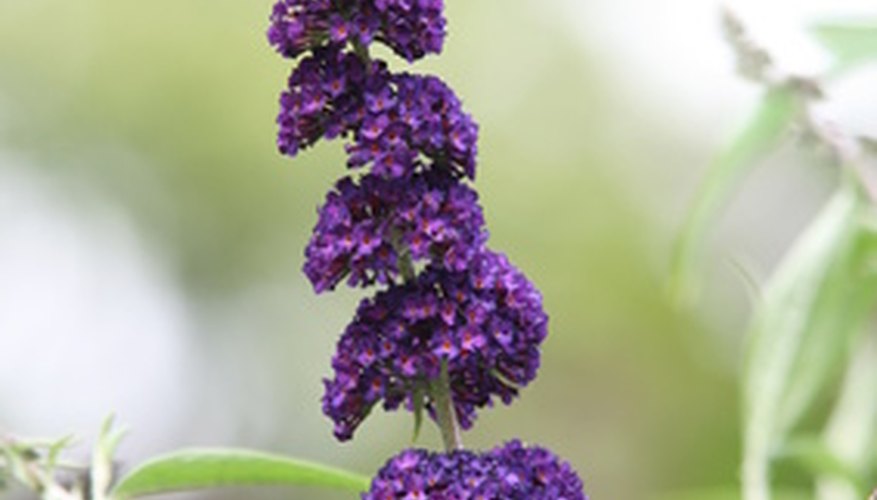 Buddleia davidii (sometimes spelled Buddleja) is native to China and hardy in Zones 5 through 9. Although it was once referred to as the "summer lilac," the buddleia is now most commonly called the butterfly bush. It is a favorite of many gardeners for its ability to attract butterflies and other beneficial insects. It varies widely in size, form and leaf color; "Black Knight" and "Pink Delight" are only two of many popular cultivars.
Identification
The butterfly bush is deciduous to semi-evergreen, depending on its location. At the northern end of its range, it dies to the ground in winter, but begins growth again in the spring. It grows quickly and can reach mature size in one to two seasons. Depending on the cultivar, the butterfly bush can range from 5 to 10 feet high and 4 to 10 feet wide, with an open, spreading form. Leaves may be deep green, gray-green or silvery-gray in color. The blossoms are tiny and tubular, growing in long, spiky panicles. Flower colors are mostly in blue, purple and lavender shades, although white-, yellow-, pink- and red-flowered varieties are available as well.
Uses
The butterfly bush is a must for all but the smallest butterfly garden. Its blossoms are a favorite nectar source of all types of butterflies, and it also attracts bees, ladybugs and even hummingbirds. The flowers' scent adds a pleasant spicy fragrance to the garden or patio. If they are kept deadheaded, many varieties will produce bloom from June to October, with the heaviest bloom in July and August. Their rounded form makes a good backdrop to other garden flowers—just allow enough room for their width.
Culture
The butterfly bush needs well-drained soil and will not tolerate being waterlogged. A full-sun exposure is required for the best flower production. Cold temperatures will cause the plant to be killed to the ground, but new growth will commence in the spring. In areas where the plant persists through the winter, pruning to within a foot of the ground in early spring will improve both its looks and its floral display. Don't prune in fall or winter to avoid cold weather damage, states the Clemson University Extension.
New Cultivar
North Carolina State University plant breeder Dr. Dennis Werner has developed a new butterfly bush called "Blue Chip," which is small and dense, with many advantages over older, larger varieties. Only 2- to 3-feet tall and wide, it has a compact mounding habit, making it useful as a container plant or as ground cover. It also blooms continuously throughout the summer. Unlike most buddleia, it is a low seed setter, meaning that it is not invasive.
Invasive Species
The Native Plant Societies of Oregon and Washington have placed the butterfly bush on the "Most Invasive Species" list. Because it grows aggressively in the Northwestern climate and is a nonnative species, it can potentially overtake native species in natural areas. The Oregon State University Extension recommends that gardeners in these states control any plantings of butterfly bushes by clipping all flower heads in the fall and avoiding dumping the clippings on the ground, particularly near roadsides, creeks or rivers. Any new seedlings that sprout near the plants should be destroyed.