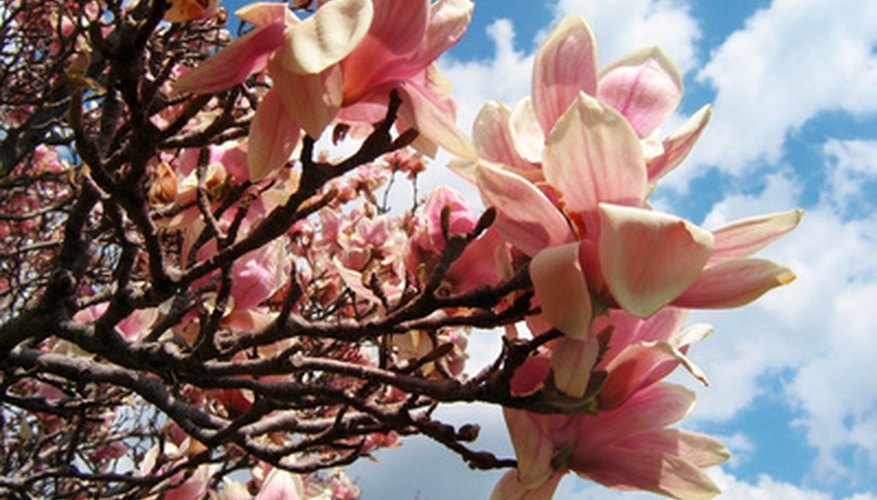 magnolia tree image by Liz Van Steenburgh from Fotolia.com
Native to East Asia and eastern North America, magnolia trees have two species categories: deciduous and evergreen. Magnolia trees have showy, fragrant blossoms that emerge in the spring and summer. The flowers are cup-, goblet- or star-shaped and cover the branches. Magnolia trees prefer well-drained, moist soils that are neutral to acidic. They also thrive in full sun and partial shade, making these hardy blooms very adaptable.
Bigleaf Magnolia
The bigleaf magnolia is a deciduous tree with an upright, mounded form. Bigleaf magnolia trees grow up to 40 feet tall and 15 feet wide, creating a commanding presence to the landscape. The light green leaves on the bigleaf magnolia are alternate and grow an astounding 12 and 32 inches long. Bigleaf magnolias also are slow-growing with a course texture. They prefer full sun to partial shade and moist, nutrient-laden soils to thrive. The fragrant, white flowers emerge in the summer and grow 8 to 10 inches long. The rose colored fruit is egg-shaped. Its USDA hardiness zones are 5 to 8.
Kobus Magnolia
Kobus magnolia is a deciduous tree with a pyramidal shape when its young. As the threes mature, their shapes become rounded and multi-stemmed. Kobus magnolia trees grow up to 40 feet tall and 20 feet wide. The green leaves range from 6 to 7 inches long and a yellowish-brown color in the fall. Kobus magnolia trees have white, fragrant flowers fringed with pale purple color that emerge in the spring and grow between 3 and 4 inches wide. In fact, the kobus magnolia tree is one of the earliest magnolia trees to begin flowering each spring. Kobus magnolia trees also prefer full sun and grow in a wide range of soil types, making this tree very versatile. The USDA hardiness zones are 5 to 8.
Little Gem Magnolia
As the name indicates, little gem magnolia is an evergreen tree that only reaches 20 feet tall, a dwarf compared to most magnolia trees that are double in height. Its upright, dense form is slow to grow and reaches a maximum width of 10 feet. It prefers full sun and a wide range of soils to flourish. The leathery, dark green leaves on the little gem magnolia range from 5 to 8 inches long. Little gem magnolia trees have course texture and white, fragrant flowers that bloom every summer. Little gem's also flower at an early age and retain their vibrant green all season long, including winter. The USDA hardiness zone is 5 to 9.
Resources