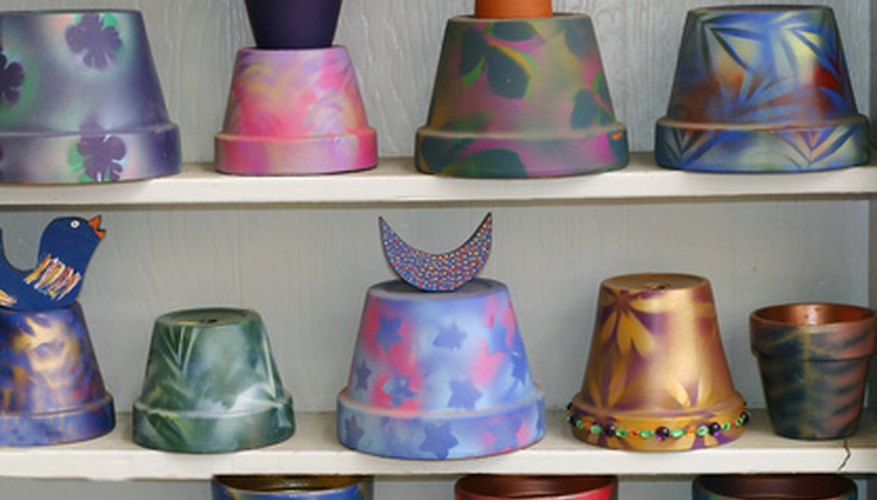 Clay flower pots are good choices for container gardens, but you can also use them to create art projects for your garden. Make a bird bath with clay pots and a clay saucer or transform a clay pot into a water fountain. You can also use clay flower pots to make decorative garden people, wind chimes and a variety of other yard art. Learn to make you own clay flower pots with homemade clay for an inexpensive solution to garden décor. Paint the flower pots or glue mosaic tiles to the outside for added design interest.
How to Make Clay
Combine 2 cups flour, 1-1/3 cups salt and 4 teaspoons cream of tartar in a mixing bowl. Mix the ingredients thoroughly. Add 2 cups of boiling water and 4 teaspoons of vegetable oil to the mixture, and blend thoroughly with a wooden spoon. The mixture will cool as you stir. This and other clay recipes can be found online at sites such as www.theholidayzone.com.
Add food coloring to the mix, and knead the clay mix with your hands to blend in the coloring.
Continue to add food coloring while you knead the clay until it is the desired color.
Making a Clay Flower Pot
Coat the inside of a large plastic, glass or stainless steel bowl with a release agent. You can use non-stick cooking spray, petroleum jelly or purchase a commercial release agent at the craft store. The inside shape and size of the large bowl will create the shape of the clay flower pot.
Coat the outside of a medium-size bowl with a release agent. The medium-size bowl should fit inside the large bowl.
Cut 1/8-inch diameter wooden dowels into six 2-inch sections with a craft knife. Coat each section of dowel with a release agent.
Press the homemade clay into the bottom and sides of the large bowl. The thickness of the clay along the sides and bottom of the bowl should be 2 inches. Insert the six dowel sections into the clay at the bottom of the bowl. The dowels will create the drainage for the flower pot, so press them in the clay to meet the large bowl.
Place the medium-size bowl on top of the clay in the large bowl. Fill in around the sides with more clay between the large and medium bowls. Let the clay dry in the molds overnight. Remove the medium-size bowl. Remove the clay flower pot from the large bowl. Remove the wooden dowels.
Things You Will Need
2 cups flour

1-1/3 cup salt

4 tsp. cream of tartar

2 cups boiling water

4 tsp. vegetable oil

Mixing bowl

Wooden spoon

Food coloring

Large bowl

Release agent

Medium-size bowl

1/8-inch diameter wooden dowel

Craft knife
References
Resources