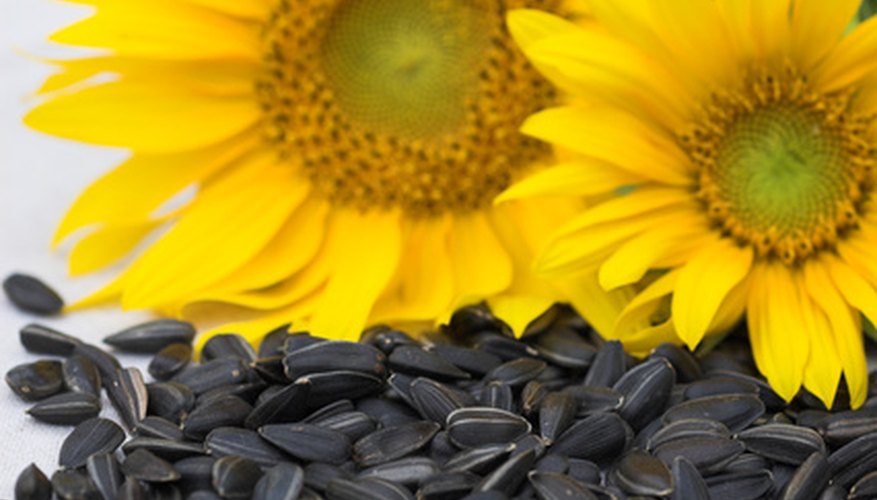 Create a healthy snack from a flower without having to eat the petals. Sunflowers have large round heads containing their black seeds. Small, bright yellow petals crown the head of the sunflower, but only after these petals fall will the seeds inside the head be ripe enough for harvesting and preparing to eat. To remove the seeds from the sunflower, you must first dry the flower. Then the raw sunflower seeds can be eaten or salted and roasted for more flavor. Sunflower seeds provide a healthier snack option than potato chips because these seeds contain high amounts of potassium, calcium and phosphorous.
Dry the Sunflower Seeds
Wrap a piece of cheesecloth around the head of the sunflower and secure it with string tied around the stem to keep birds away from the seeds as they ripen.
Cut the stem 12 inches below the cheesecloth-wrapped head to remove the flower after the petals have wilted and half of them have fallen off the flower. Look for black seeds with white stripes, indicating they are ripe.
Tie a second piece of string around the bottom of the stem to suspend the sunflower with the head pointing toward the ground. Leave in a cool, dry place until the seeds dry completely and fall into the cheesecloth. Gently shake the sunflower to dislodge any loose seeds. Keep these in an airtight container until ready to roast.
Roast the Sunflower Seeds
Combine the sunflower seeds with 2 qt. water and 1/2 cup salt. Bring to a boil over medium-low heat. Cover the pot and simmer for two hours.
Drain the seeds and pat dry on paper towels.
Heat the oven to 300 degrees F and spread the soaked and dried seeds onto a baking pan in a single layer.
Roast the sunflower seeds for 30 to 40 minutes or until golden. Let cool before serving.
Toss the sunflower seeds with 1 tbsp. butter and additional salt or other seasonings to taste while still hot if you desire. Stir to coat and let cool on paper towels before serving.