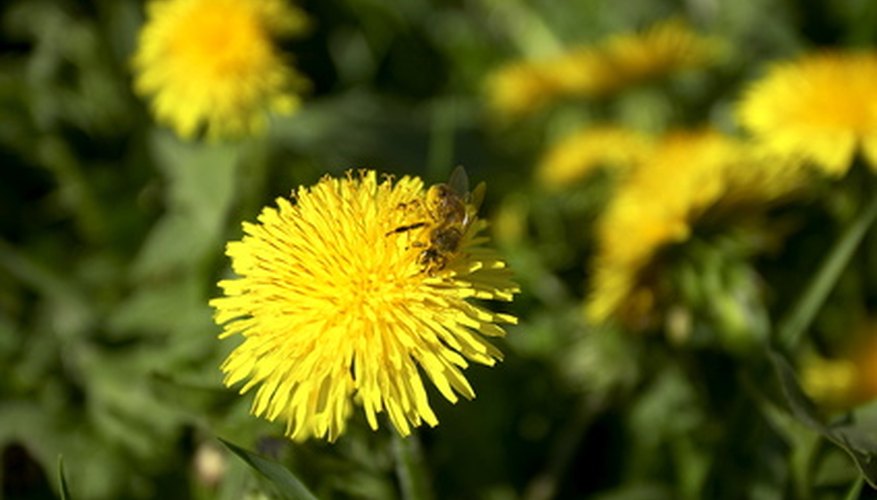 Dandelions in your yard and garden can be a particularly tough weed because their taproots are so hard to pull up. Like other parts of the dandelion plant, the roots are edible. People around the world have been consuming dandelion raw, cooked and in teas and wines for centuries. The plant is known for its diuretic and detoxifying qualities, and it is a rich source of antioxidant vitamins A and C. Dandelion root tea is also known as dandelion coffee because the root is roasted prior to steeping.
Prepare the Roots
Dig up dandelion roots in the fall or spring. Use plants that haven't yet bloomed for the tastiest and most potent roots. Try to dig below the taproot so you can remove the whole thing. Get enough roots to make 4 cups, which will be about 2 cups dried.
Wash the roots, scrubbing off the large chunks of dirt with your fingers. Soak the roots in cold water for about 30 minutes and remove the remaining dirt with your fingers or a vegetable brush.
Preheat the oven to 150 degrees F. While you're waiting, chop the dandelion roots into 1-inch pieces. If any parts of the root are thicker than your thumb, set them aside to eat as a raw or cooked vegetable.
Spread the roots on a cookie sheet. Dry them in the oven by cooking them for two hours at 150 degrees F. When the roots are brittle, increase the heat to 375 degrees F and roast them for another 15 minutes. Allow them to cool.
Make the Tea
Mix 2 cups of dandelion root with the cinnamon sticks, cardamom seeds, star anise and ginger root. Place the mixture in a blender and grind it until it's well-mixed and broken up into very small bits.
Add 3 tbsp. of the tea into 2 cups of boiled water, and simmer it for 10 minutes.
Stir in a cup of milk and a tablespoon of honey. Reheat the mixture to just under the boiling point. Strain it before serving. Serve the tea hot, or chill it in the refrigerator and serve it over ice.