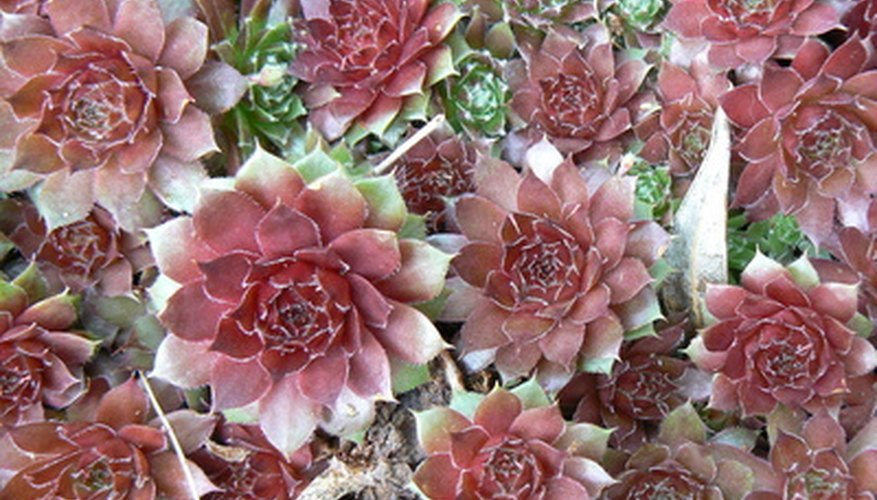 The best low-maintenance flowers for your landscape depend in large part on your particular climate, according to D.F. Hamilton and R.J. Black of the University of Florida's Cooperative Extension Service. Plants that thrive in the hot sun will not do well in cooler areas of the country, like the Pacific Northwest. Likewise, plants that require cool, moist soil will not thrive in rocky, dry soil. There are several types of flowers known for their low maintenance requirements regardless of the climate.
Succulents and Cacti
Succulents are disease-resistant, slow-growing, hardy plants. Some rarely need pruning due to their slow growth, others spread and bloom continually without needing to be deadheaded. In addition, the ability of succulents and cacti to retain water makes them easy to care for. Sedum is a popular succulent that is not only low maintenance, but attractive as well. This perennial plant blooms profusely from mid-summer to early fall, spreads easily and attracts butterflies.
Perennials
Perennials are good choices for a low-maintenance plant because most bloom repeatedly year after year. Not all perennials are created equally, though. Some are more tolerant of temperature extremes and poor soil than others. Black-eyed susan (Rudbeckia fulgida 'Goldsturm') is a perennial that will bloom from August to October with very little care. The almost 3-inch flowers have yellow petals and black centers, making them a striking addition to any fall garden. You don't even have to deadhead the flowers, as birds love them when they go to seed.
Another daisy-like flower is the blanket flower (Gaillardia aristata). These flowers grow as tall as 16 inches and are bright yellow with deep purple centers. These hardy, fast-growing flowers thrive in a range of soil conditions and are even salt tolerant.
Flowering Shrubs
Flowering shrubs are some of the hardiest flowers you can choose for your landscape. Most need little, if any, pruning--especially slow-growing varieties--and once established, many shrubs do not need regular watering. Virginia sweetspire (Itea virginica) is a deciduous shrub that averages 4 feet in height. This attractive plant features white flowers in the spring and burgundy fall foliage. In addition, Virginia sweetspire will grow equally well in the sun or in the shade.
The northern bayberry (Myrica pensylanica) has beautiful, silvery foliage and can thrive in part shade, full sun, poor soil and even windy conditions. This shrub will also tolerate salt spray, making it a good choice for coastal landscapes. The shrub grows to a height of 10 feet and features white flowers and berries.
Flowering Groundcovers
Flowering groundcovers are the perfect hardy flower for areas that are difficult to cultivate, such as hillsides or under trees. Creeping mazus (Mazus repens) has attractive purple flowers in the spring with smooth, oval green leaves. It is often planted in place of traditional lawn grass. Creeping phlox (Phlox subulata) is another hardy, low-maintenance flowering groundcover that can be used as a lawn substitute or under trees. This plant blooms in early summer with flowers that are white, red, pink or purple.