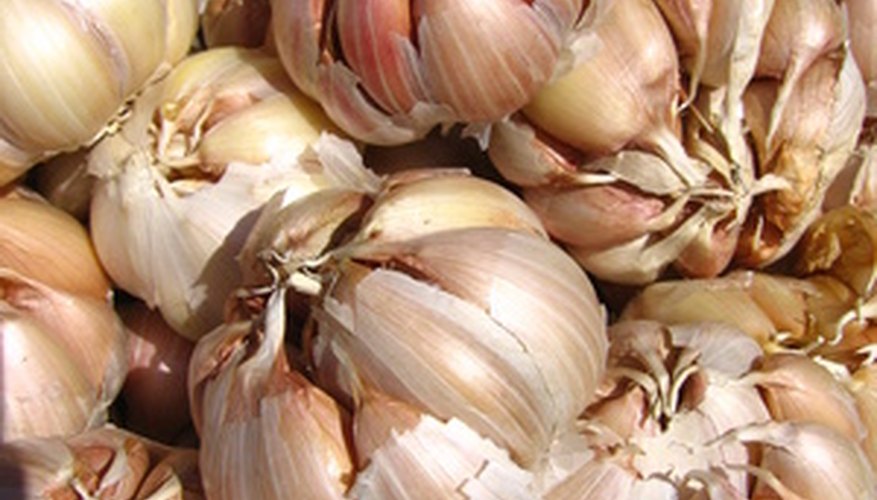 Garlic is best planted in the fall, early enough for the roots to grow before the ground freezes, but late enough to prevent leaves from sprouting. With a well-established root system, growth in spring is stronger and healthier than that of spring-planted garlic. Instead of planting seed, you plant a small division of the head of garlic, called a clove. Each of these will grow into another head of cloves that can be harvested in summer.
Choose an area in full sun for your garlic patch. The soil should have a pH of 6.5 to 7.2 and water should drain through it freely. Avoid any places where water puddles. Waterlogged soils are poor in oxygen and may cause your garlic to rot.
Dig and turn the soil with a shovel, breaking up any clods. Loose, well-aerated soil promotes good root growth. Rake the top of the soil level.
Take your head of garlic and gently pry apart the individual cloves, separating them completely. Discard the smallest cloves, any that weigh less than 1 g, and any with damaged skins. The pointed end of each clove is the top, the place where the leaves will emerge, and the flat end is the bottom, the place where roots sprout.
Gently push each clove of garlic into the soil, to a depth of 1 or 2 inches where winters are mild, 3 to 4 inches where winters are severe. Make a row of cloves about 4 to 6 inches apart, with subsequent rows being 1 1/2 feet to 2 feet apart.
Cover your newly planted garlic with a mulch of straw, compost or other material. This should be 2 to 4 inches thick and will protect the crop from alternate freezing and thawing that might push the cloves out of the soil. It also discourages weed growth and can help keep the soil evenly moist in warmer weather.