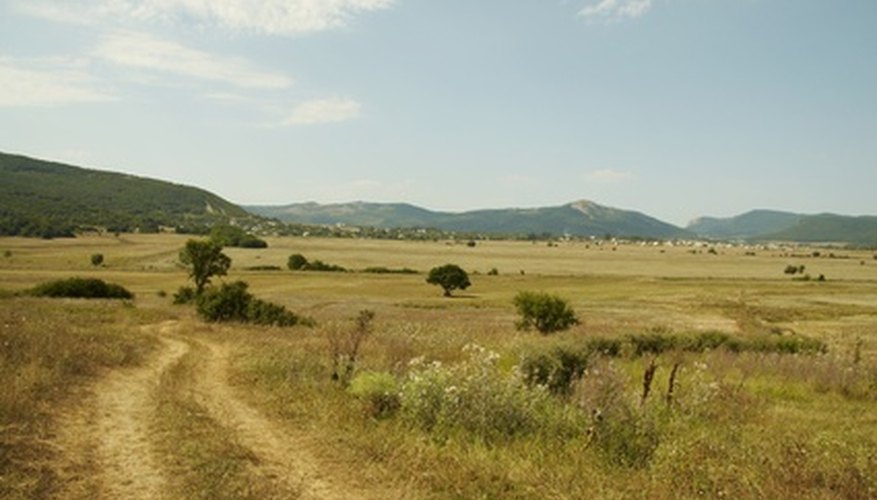 yellow grassland image by Galyna Andrushko from Fotolia.com
Worldwide, grasslands are found in dry climates that are characterized by distinct seasonal changes, such as hot summers and cold winters. Examples include the North American prairies, the steppes in Russia and the Tibetan range as well as the pampas grassland in South America, according to Marietta College.edu. Different plants are found in each grassland, depending on where it is located.
North America
There are eight different plants common in North American grasslands, according to "Wildflower Gardening" by Time-Life Books: Big bluestem, one of the dominant grasses on the tall grass prairie; blue grama grass; buffalo grass, which never grows taller than a few inches; fleabane, a white-and-yellow flower also called the Philadelphia daisy; Indian grass, which grows in tall, narrow clumps; milkweed, which produces a poisonous sap; purple coneflower, which resembles the black-eyed Susan; and stinging nettle, a green-leafed plant with hair-like fuzz covering the leaves.
South America
Located between the Atlantic Ocean and the Andes Mountains, the pampas grassland covers 300,000 square miles, according to BluePlanetBiomes.org. The main plant found in this grassland is pampas grass that grows in clumps 8 to 12 feet high and features white, feathery flowers. Other plants found in the grassland, such as cattails and reeds, although not native to the area, have adapted to the dry, hot weather conditions over time.
Eurasia, Africa and Australia
More than 2,000 native plants in the grassland in the valley of the Tibetan Plateau have been identified and include both grasses and flowering plants called forbs, according to "Grasslands of the World," by J.M. Suttie, Stephen G. Reynolds and Caterina Batello.
The grassland biome in Africa is separated into six regions by "Grasslands of the World" and includes both grasses, such as spear grass and thatch grass, and shrubs, such as Stipagrostis obtusa.
Grasslands in Australia consist of tropical tall grass, found in Northeast Queensland; mid-grass, which is found in both northern and southern Australia; and both temperate tall and short grasses, which are found in eastern New South Wales, Victoria and Tasmania.
Resources