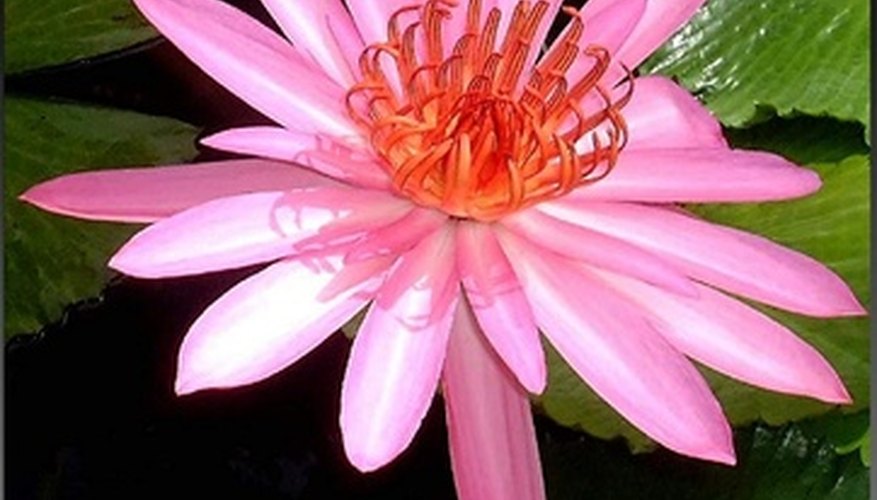 A lotus plant is an aquatic plant that produces colorful flowers in the summer. The flower blooms for three consecutive days before dying and growing a new bloom. The flower may change color during the blooming period. The plant appears to be tropical; however they are a hardy perennial that will grow in the pond each year. Lotus plants bloom by day and require at least six hours of direct sunlight. The plants grow best in areas where there are no temperature extremes.
Plant the lotus in a container at least 18 inches in diameter and 6 inches deep to prevent the tuber roots from being crowded. A tuber is a large, fleshy root that grows shoots from the buds (called eyes) on the tuber.
Place 3 inches of aquatic soil into the container and place the tuber on top of the soil. Gently add soil to the container so the tuber is covered with an inch of soil. Be careful to prevent new shoot growth from being damaged. Aquatic soil is a nutrient rich, clay based soil that anchors the submerged plant in the container.
Add a 1/2-inch layer of pea gravel over the soil. This prevents the tuber from floating out of the container or the soil from washing away once the container is placed in the pond.
Place the potted plant into the pond once the water reaches at least 70 degrees Fahrenheit. Set the pot in the water so it is covered by 2 to 3 inches of water. Don't put the lotus near heavy areas of splashing such as a waterfall.
Cover the top of the planting container with lava rock if there are koi fish in the pond. Koi will eat the plant and tuber if they are not protected.
Fertilize the lotus with a half dose of aquatic plant fertilizing tablets in June or once the first set of leaves begin to float. Fertilize once a month from July through September with a full dose of the fertilizer tablet.
Remove dead leaves above the water as they appear.
Things You Will Need
Planting container

Aquatic soil

Pea gravel

Lava rock

Aquatic fertilizer tablets
Tip
The lotus plant is hardy to grow in USDA growing zones 4 through 10. Winterize the lotus plant in growing zones with freezing weather by cutting the plant off in mid-October once there have been several hard frosts. Submerge the pot in the pond to a depth of 24 to 28 inches and leave it there during the winter months.