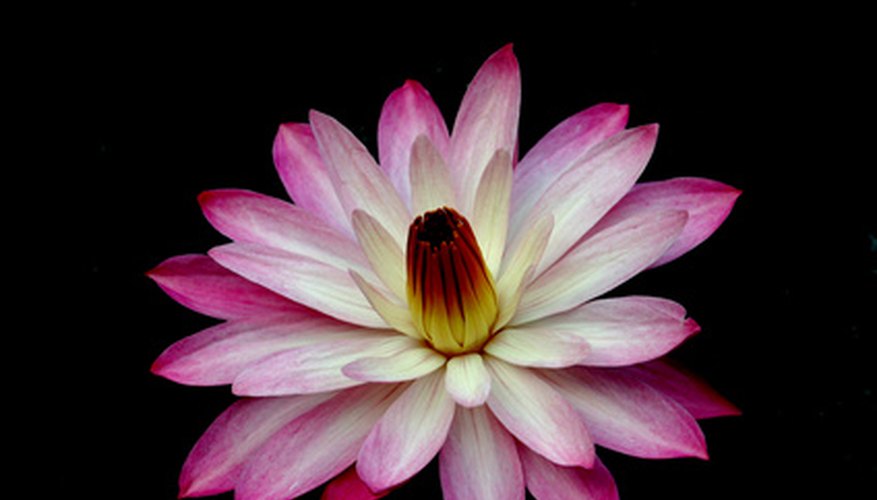 Water flowers come in many sizes, shapes and colors. Some water flowers are shade tolerant, while others require full sun to thrive. Within the water lily family, there are dozens of different varieties to choose from. The Santa Cruz water lily is one of the largest water flowers grown and has a pad that reaches up to 8 feet across. Water flowers are also quick growers and spread their roots easily inside the water garden.
Water Hyacinth
Water hyacinths grow up to 6 inches wide and have pale blue to lavender blooms with yellow spots. The balloon-like stalks are attached to shiny, pale green leaves that are rosette in form. Water hyacinths require full sun and warm temperatures to flourish. They also have long, dangling roots that easily spread around water gardens.
Albert Greenberg Water Lily
Albert Greenberg is a type of water lily that blooms during the day. The fragrant, cup-shaped blooms are yellowish rose in color and fringed with orange and pink. Albert Greenberg water lilies blooms range from 6 to 7 inches long and have spreading green foliage. The leaves are 19 inches long and spread up to 8 feet wide, making for large water flower to plant. Albert Greenberg water lilies prefer full sun but can tolerate partial shade. They flower late into the season.
Water Poppy
This tropical water flower has light yellow flowers with reddish brown centers. Water poppy flowers range from 2 to 2 ½ inches long. The abundance of flowers on the water poppy shoot up above the water for a colorful contrast to the dark green leaves. The thick, heart-shaped leaves range from 2 to 4 inches long and have trailing stems. Water poppies prefer shallow water but can survive in waters between 12 to 15 inches deep. Overwinter these hardy water flowers indoors and in shallow water to bring out the following growing season.
Attraction Water Lily
Attraction water lilies, a water lily variety, are vigorous water plants that tolerate summer heat. The red to garnet colored flowers are cup-like in shape and slightly aromatic. The flowers range from 6 to 8 inches long and have inner petals that are deeply shaded. The green leaves of the attraction lily are between 10 and 12 inches long with a 4 to 5 foot spread. Young leaves on the attraction water lily are bronze in color. These striking water flowers can be cut for a fresh cut bouquet or added to a floating vase. Attraction water lilies prefer full sun but can tolerate partial shade. These striking water flowers are ideal for deeper water gardens because they have the ability to grow in water up to 3 feet.