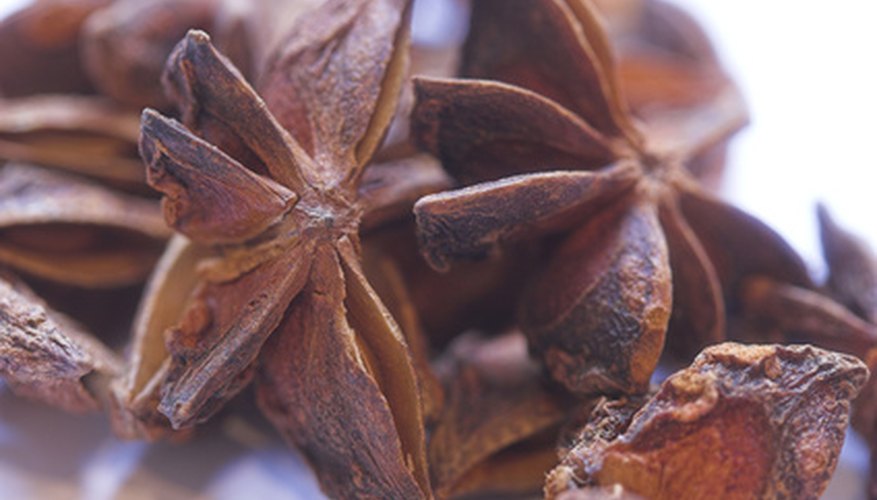 Although not the source of anise flavoring, which comes from an herb, the anise shrub (Illicium sp.) is a common name to any of about 40 species of plants from woodlands in Asia or North America. They have pretty and fragrant flowers and an evergreen foliage canopy that makes them popular as accent or hedge plants in gardens. In general they are winter hardy in USDA zones 7 through 9.
Foliage
All species of anise shrubs have broad-leaf leaves that remain evergreen over the winter months. They generally are oval to lance-shaped and taper to a tip, being bright to deep green in color. They are thick and glossy and if bruised or crushed, emit a strong fragrance similar to root beer, but must not be eaten. On the plant branches, the leaves are arranged alternately, sometime nearly whorled, in clustered groups in a band around a stem.
Flowers
The flowers typically occur in spring to early summer from branch tips, held slightly above the foliage. They are scented, pleasantly or not, and have a spidery or starfish-like appearance. Each blossom comprises many short, strappy tepals, which are petals and sepals that are indistinguishable. Depending on species of variety of anise shrub, the tepals are creamy white, reddish purple, buttery yellow in color or light colored with blushes of pink or red.
Fruit/Seed
After the flowers are pollinated, they develop into attractive, star-shaped fruits called follicles. These are dry, or dehiscent, fruits that are woody in texture and ripen to a deep chocolate brown. They are fragrant if crushed and not recommended to flavor teas or foods. Within the chambers of the fruits are tiny seeds that are shed and readily germinate in moist soil under the parent plant. The seeds range in color from dark brown and glossy to tan.
Habit
Depending on species, the mature shape and habit of the anise shrub varies from being an upright oval shrub with a height of 8 feet, to a small tree with a pyramid-like shape and mature height of 25 to 60 feet.