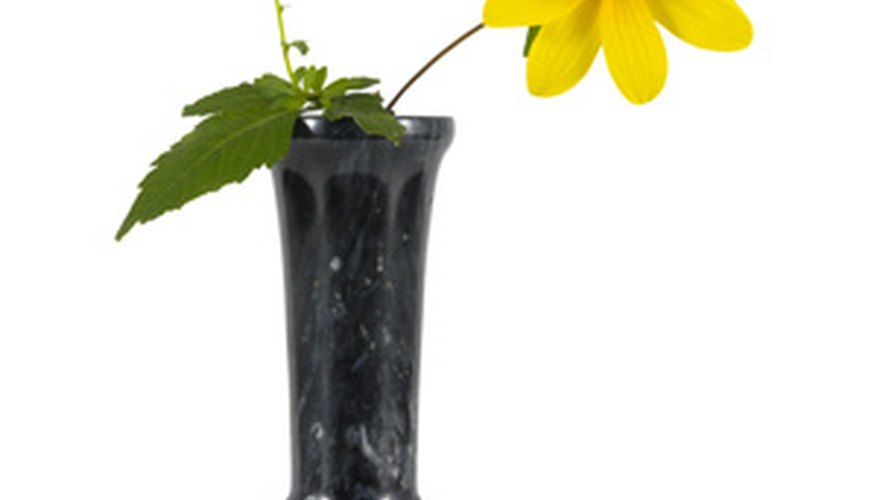 Using cut flowers from your garden in flower arrangements or in bouquets adds color to your indoor spaces. Many flower varieties remain attractive for up to two weeks if properly cut and cared for in the home. Conditioning flowers immediately after cutting gives each bloom the best chance to remain fresh and attractive for the longest time possible. Conditioning encourages the flower to take up a maximum amount of water soon after it has been cut from the garden.
Fill a bowl with lukewarm water. Hold the end of the flower stem under water and cut off the bottom ½ inch at a 45 degree angle, using a sharp knife. Cutting under water prevents air bubbles from entering the stem, which leads to wilting. A fresh-cut surface on the stem encourages maximum water uptake when you condition the flower.
Fill a bucket with water warmed to 90 to 100 degrees F. Set the newly cut flower stems in the warm water and move the bucket to a cool, 32- to 35-degree F room. Allow the bucket and flowers to remain in the cool room until the water in the bucket returns to room temperature.
Fill a vase with room-temperature water and dissolve a flower preservative in the vase. Follow package instructions for the preservative.
Remove the flowers from the conditioning bucket. Remove any leaves or thorns that will sit below the water and place the cut flowers in the vase. Display as desired.