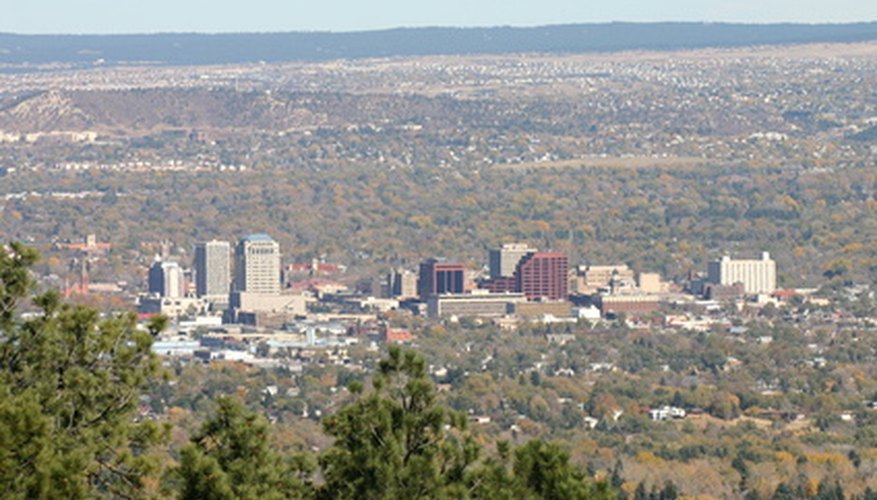 Native plant communities define the five life zones of Colorado. The Plains life zone is the area of the east slopes at altitudes of 3,500 to 5,500 feet. This is where most citizens reside. The Foothills are located at 5,000 to 8,000 feet, and the Montane zone is at 8,000 to 9,000 feet. Subalpine fir and Engelmann spruce densely forest the subalpine zone at 9,500 to 11,500 feet, and higher yet, the Alpine zone is treeless grassland called tundra. Successful gardening depends on choosing the right shrubs or flowers for the zone.
Western Chokecherry
Western chokecherry (Prunus virginiana melanocarpa) grows well at altitudes of between 4,500 and 8,500 feet. The dark purple fruit can be harvested for preserves. Left unattended, the western chokecherry will send out suckers and form thickets of dark green leaves that turn to red, orange or yellow in autumn.
Silvery Leadplant
The silvery leadplant (Amorpha canescens) shows tall spikes of purple flowers in mid-summer. The dense foliage is gray-green and appears fern like. The shrub is tolerant of poor soil conditions and drought. It does best at altitudes of 3,500 to 7,500 feet.
Manzanita
Manzanita, sometimes called bearberry (Arctostaphylos patula) grows at higher altitudes of Colorado, at elevations between 6,000 and 9,000 feet. The manzanita grows in well-drained soil. Dense foliage of oval, bright green leaves grow from mahogany-colored stems. In the spring, the shrub flowers in pink, followed by fruits than resemble small, dark-brown apples.
Waxflower
The waxy white blooms of the waxflower (Jamesia Americana) can be spotted in the late spring at elevations of 5,500 to 10,000 feet. A flat-topped shrub, waxflower has heart-shaped leaves that have white undersides and turn red in the fall. Waxflower shrub can be grown in the shade, but requires well-drained soil.
Blue Flax
Blue flax (Linum lewisii) is a compact flowering plant that grows from 6 inches to about 1 foot high. It thrives in the dry sun areas of the Colorado Foothills and Plains at altitudes lower than 8,000 feet.
Colorado Columbine
The state flower of Colorado is the Colorado columbine (Aquilegia caerulea). It thrives in the Foothills, Montane and Subalpine altitudes of the state in either the sun or shade. The Colorado columbine has blue flowers and grows to a height of 1 1/2 to 2 feet. It likes moist soil conditions.
One-Sided Penstemon
Growing in the Plains and Foothills regions of Colorado, one-sided penstemon (Penstemon secundiflorus) blooms in colors from pink or magenta to a bluish lavender. This tiny plant has light, bluish-green leaves and reaches a height of 6 inches to 1 1/2 feet. It grows best in dry, sunny locations.