Romantic gardens create space that invites you to touch, smell, look and listen to the environment around you. One required item for a romantic garden is a water feature like a pool or fountain. Romantic garden designs include paths, arbors, benches, statues, trellises and stepping stones. Once the non-plant items are in place, plant trees, shrubs, flowers and ground covers. Plants chosen for a romantic garden should appeal to the senses, like flowers that stir the sense of smell and sight.
Flowering Quince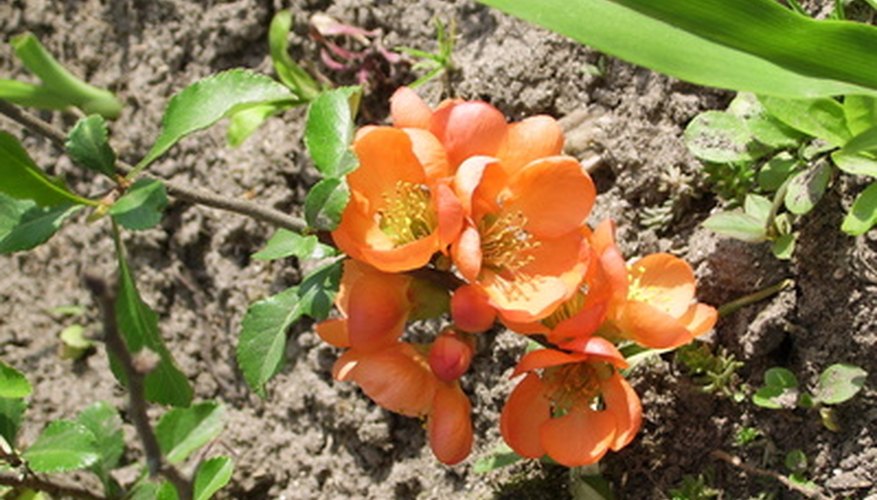 Flowering quince (Chaenomeles speciosa) is a deciduous shrub that grows 6 to 10 feet tall. The multitude of stems creates a dense tangle of spiny branches. The 1 1/2 to 3 1/2 inch long leaves are oval with gently pointed tips and tiny serrations on the edges. New leaf growth appears reddish-bronze in color, while mature leaves are glossy, dark green. Flowers appear before the shrub leafs out in April. The blossoms form clusters of two to four flowers on old-growth branches. The 1 1/2 inch blossoms are red, salmon, pink and white. The flowers are followed by 2 to 2 1/2 inch, yellow-green, apple-like fruit. The quince fruit is ready for harvest in October. Plant the flowering quince in full sunlight to receive the best results in blossoming.
Japanese Honeysuckle
Japanese honeysuckle (Lonicera japonica) is a twining, climbing vine that reaches 15 to 20 feet long. This semi-evergreen vine dies back to the ground in freezing weather. Dark green, oval leaves cover the slender stems. The leaves turn bronze or purple in the fall. In the middle of June, fragrant white flowers appear and fade to yellow as the blossoms age. Japanese honeysuckle adapts to nearly any type of soil. Honeysuckles are invasive, so plant them in containers to control their spreading.
Prairie Crabapple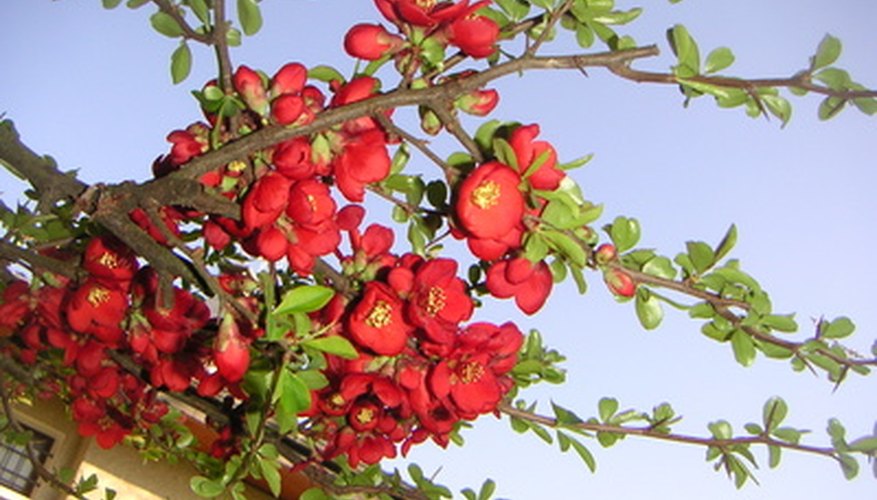 Prairie crabapple (Malus ioensis) is a deciduous tree growing 30 feet tall with a round canopy of spreading branches. Dark green, 1 1/2 to 5 inch long leaves are oblong in shape. Fragrant white or pink flowers cluster together with two to five blossoms in a group. Prairie crabapple blossoms appear in April to June, followed by small, green-yellow apples that mature in September or October.
Rose of Sharon
Rose of Sharon (Hibiscus syriacus) is a deciduous shrub that grows 8 to 10 feet tall and spreads 6 to 8 feet wide. This upright bush produces 2 to 4 inch long leaves with two lobes and toothed edges. These medium to dark green leaves are late to show up in the spring. They turn yellow-green in the autumn. Rose of Sharon blossoms throughout the summer in white, pink, magenta, violet and blue with blooms 2 to 4 inches across.