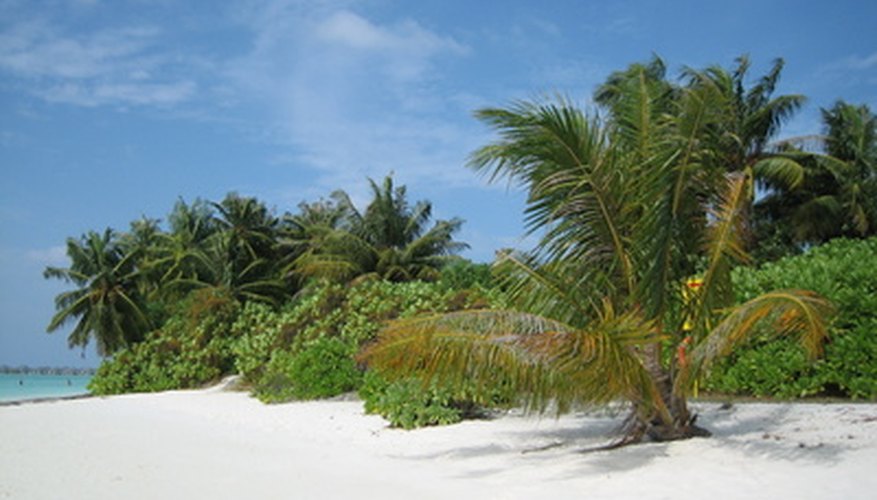 tropical island, paradise island image by Mikhail Basov from Fotolia.com
In the tropical climate of the island of Jamaica flourish many exotic plant species. South of Cuba, southwest of Haiti and north of Panama in the Caribbean Sea, Jamaica is home to many native and many naturalized plant species. From as far away as Africa and Asia, these plants have adapted well to its rich soil conditions, warm weather, sea island climate and abundant rainfall. Many of Jamaica's plants retain foliage and flowers year-round. Learn about the native plants of Jamaica to enjoy the richness of its tropical island landscape.
Lignum Vitae
Lignum vitae (Guaiacum officinale), a member of the Zygophyllaceae family, is the national flower of Jamaica. Lignum vitae grows in the Caribbean and South America including Panama, Venezuela and Columbia. It grows to just under 33 feet in height and produces dark green leaves, blue flowers and yellow, heart-shaped fruit. It is drought-resistant and easily self propagates through seeds. Some common names of lignum vitae are guaiac, guajacum and pockholz.
Blue Mahoe
The national tree of Jamaica and a member of the Malvaceae family, blue mahoe grows to a towering 65 feet in height and produces beautiful yellow to reddish flowers that resemble hibiscus blossoms. Blue mahoe is native to Jamaica and Cuba, and it gets its name from the bluish-gray hues of its wood. It thrives in moist soil and full sun, and its other common names include Cuban bast and mahoe.
Allspice
Allspice (Pimenta dioica), native to Jamaica, the Caribbean, Central America and Mexico—is a member of the Myrtaceae family. The tree grows to 40 feet in height and produces white flowers and brown-colored fruit. Its unripe fruit is dried and ground into a powder to make the popular Caribbean spice, allspice. The tree does well in full sun and dry soil conditions. Allspice gets its name from its aroma that mimics several spices all in one. Its other common names include Jamaican pepper and pimento.
Annatto
Native to Jamaica, neighboring Caribbean islands and South America, annatto (Bixa orellana) grows as a perennial evergreen shrub or tree, reaching up to 26 feet in height. Annatto is a member of the Bixaceae family and thrives in tropical climates that receive an abundance of year-round rainfall. The tree produces white flowers with a hint of pink or purple color and fruit pods that contain annatto seeds. Annatto seeds are ground into a powder and are used as a coloring spice for food (similar to saffron) and as a general dye. Some of its common names are achiote, urucum, the lipstick Jamaican annatto tree and arnatto tree.