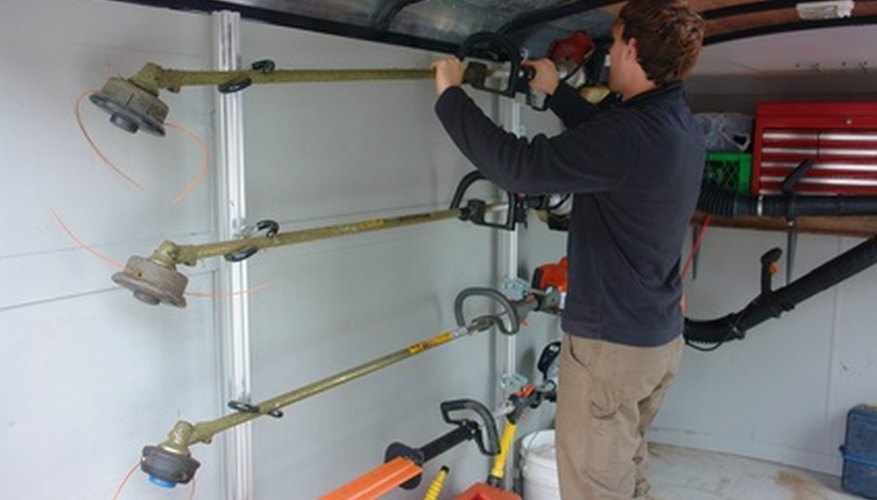 Introduced in the 1970s, the weed trimmer is a handheld device used to trim grass, weeds and small plants from around objects in the yard. It uses monofilament line attached to rotating wheel or hub instead of a blade for cutting. The trimmer is available in both gas- and electric-powered models.
Identification
The gas trimmer has a two-cycle engine that powers the unit. Mix the gasoline with two-cycle oil according to manufacturer's instructions. The gas trimmer starts in the same manner as a lawn mower by pulling a cord. An electric trimmer, powered by an electric motor that plugs into an electrical outlet, requires the use of an extension cord. It has a trigger that works as an on and off start button. Newer cordless models attach to a rechargeable battery that provides the power.
Pros
For large yards and professional lawn maintenance, purchase the gas model. It has more horsepower, does not have the restrictions of an extension cord and will have a longer life than the electric model. Electric weed trimmers are light, not as loud, do not emit any smoke and are less expensive than gas-powered trimmers. Electric models are better suited for small yards.
Cons
Gas-powered weed trimmers are on the heavy side. Their two-cycle engines require mixing oil with gasoline according to the manufacturer's instructions. They are loud and emit smoke when in operation. Electric weed trimmers require the use of a cumbersome extension cord unless you purchase the costlier cordless model. They are not as durable and do not have as much power as their gas counterparts.
Considerations
There are a few questions to consider before purchasing a weed trimmer. How much weed trimming do you need to do? Are you physically capable of carrying around the heavier gas model? Are there many obstacles in the yard that might make it difficult to use an extension cord? How often will you use the trimmer? .
Warnings
Use both types of weed trimmers with extreme caution. If not used properly they can inflict serious injury due to lacerations, eye injuries and the risk of shock. Always read and follow the manufacturer's recommended operating instructions and warnings. Wear safety glasses, gloves and long pants when using a power trimmer. Even though the trimmers have shields to guard against flying debris, occasionally an object will still be projected from the trimmer.