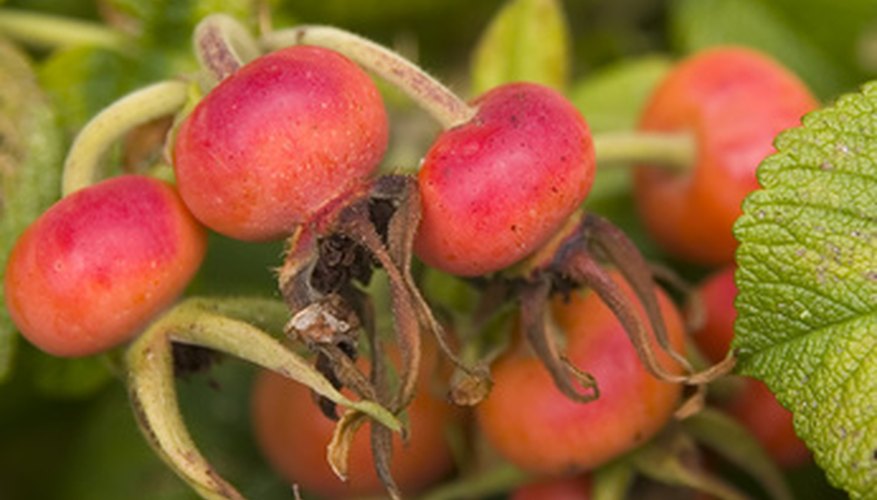 The fruits of the rose, or hips, are usually discouraged from forming on our modern ornamental rose plants. Gardeners typically remove spent flowers from them to promote blooming before hips have the chance to develop. It's a pity not to reap their benefits, however, when the sweet-tangy fruits are so simple to harvest. Rose hips have long been used for making jam, jelly, syrup, sauce, puree and other flavorings. An old-time favorite is a piping hot cup of rose hip tea, brewed straight from the garden. Allow the spent flowers to remain on your rose plant until frost.
Preparing Fresh Rose Hips
Snip the stems of ripe hips from your rose plant right after the first seasonal frost, using sharp, clean scissors. The mature spheres will be bright red or orange, depending upon the rose variety. They'll feel slightly softened. Break the stems off at the hips.
Trim the stem and blossom ends off with sharp scissors. Cut the rose hips in half lengthwise. Scoop out the seeds and tiny hairs in the center with a small, blunt tool such as a chopstick.
Rinse the cleaned hips under cold running water. They're ready for fresh preparations as they are, or dry and store them for future use.
Storing Rose Hips
Remove the blossom and stem ends with sharp, clean scissors. Spread the hips out in a single layer on paper towels and allow them to air-dry at room temperature. They're ready to process when the skins begin to shrivel.
Halve the hips lengthwise and scrape out the seeds and little hairs inside. Rinse under cold running water and drain well in a colander. Allow them to air-dry completely.
Set the rose hips on screening in a single layer with plenty of space in between them so that they're not touching each other. Place them in a dark, warm, dry spot until they resemble raisins or dried dates.
Refrigerate the dried rose hips in sealable plastic food bags for several months, or freeze indefinitely.