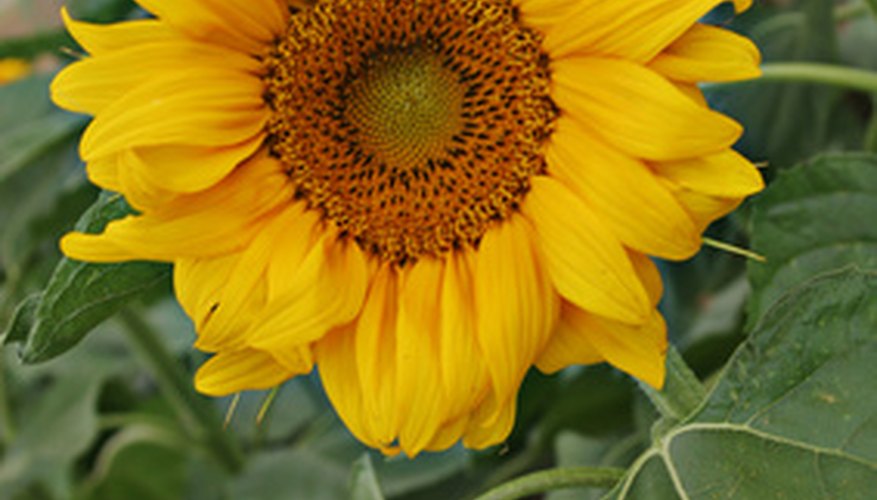 Growing sunflowers not only adds beauty to the landscape, but can provide food for the birds during the winter months. Sunflowers can be extremely prolific in seed production on the head of the flower. These seeds can be saved directly on the head. The flower head is harvested once the individual seeds are formed to maturity. In most cases though, not all of the seeds will be mature as the birds may begin to eat the seeds before the entire flower head is ready to be picked.
Observe the sunflowers and check the seed head during the growing season. The seeds will mature from the outside of the flower head and work inward. Pick a few of the outer seeds. Break the seed cases open. Check the consistency of the nutmeat, it must be thick and have some moisture to the kernel.
Cut a piece of string or twine, using a knife, that is approximately 48 inches in length. Tie a loop in one end of the string or twine.
Remove the flower head when many of the seeds are mature using gardening shears. You may have to cut the flower head early, if too many birds are taking advantage of the early sunflower seed feast. Leave approximately 10 inches of the flower stem attached to the flower head.
Gather approximately six sunflower heads together. Hold the stems in one hand by allowing the seed heads to rest on the ground. Run the string around the stems.
Pull the end of the string through the loop. Cinch the string tight around the stems of the flower heads. Pull the end of the string upward to lift the six flower heads. All of the flower heads should now be secure from the string or twine noose.
Hang the heads of the sunflower seeds in a well-ventilated area, such as a screened-in porch or a garage. You will want to keep the seed heads away from birds and rodents.
Allow the seed heads to completely dry. This may take up to one month depending on climate and location.
Remove the dried seeds with your hands. The seeds will fall relatively easy from the head with a little pressure.
Store the seeds in a plastic storage bag that can be sealed from outside elements and insects. Keep the storage bag in a dry, cool location away from rodents.