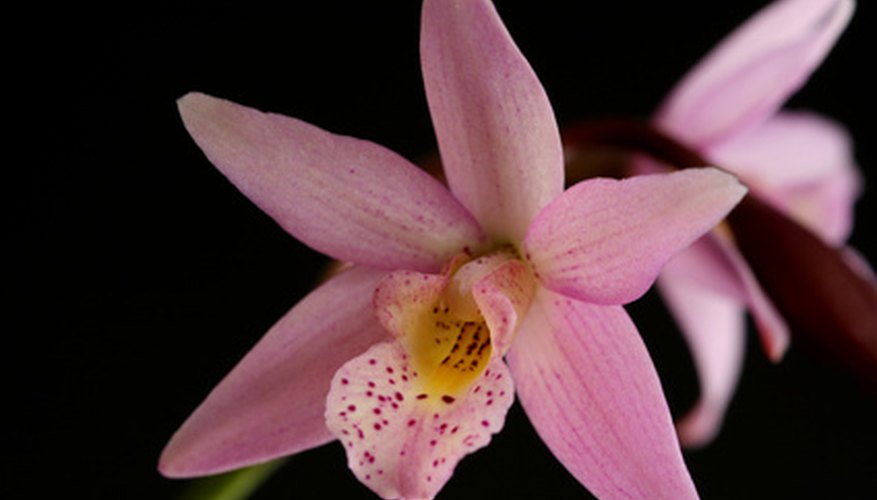 Brighten your Easter festivities with beautiful orchids from your garden. Not only do orchids add a lovely touch to tables as Easter centerpieces, but they can also add something special when you wear them as a corsage. When you have an Easter orchid corsage that is large and bold, make sure you attach it properly and securely to your clothing. Once you pin your corsage correctly, you can enjoy the compliments without worrying about it falling off.
Position the orchid corsage so the tops of the flowers are approximately 4 inches from the left shoulder and the corsage covers the collarbone area.
Place one hand under the corsage and grasp the stems with your other hand. Angle the corsage across the upper chest area and make sure you like the position of the corsage.
Insert the first corsage pin into the fabric and angle it diagonally from the bottom left corner across the corsage. Push the pin back out of the fabric and through the center of the orchid stems. Insert the pin into the fabric again on the opposite side of the orchid stems, push it through 1/2 inch and then poke the pin back up to the top of the fabric.
Tug on the orchid corsage slightly to make sure it is secure.
Insert the second corsage pin, starting this pin at the top left corner just under the orchid blossoms. Push this pin in and out of the fabric using the same technique except angling it down across the stems instead of up and across.