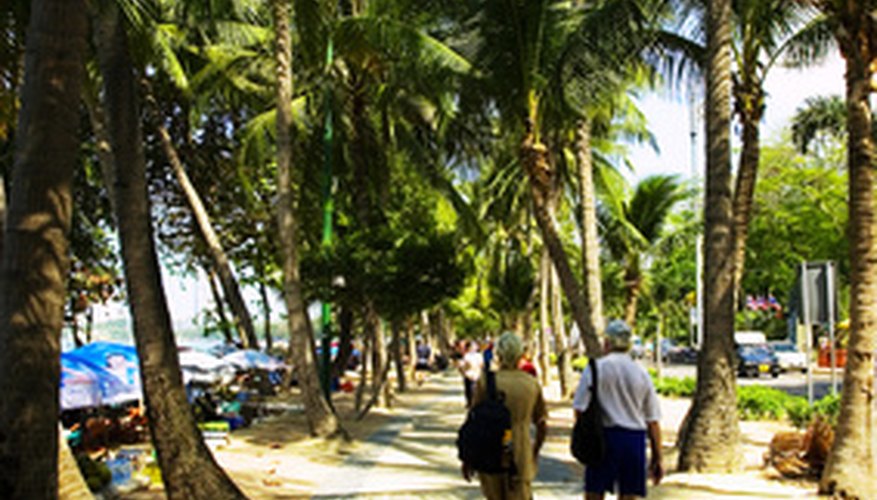 Though the Central Florida area is known to tourists as a place of sun and palm trees, very few native palms are native to the region. Many of the palms seen in the area have been introduced through cultivation. Some of those cultivated trees have found the area favorable to their growth in the wild, and therefore have flourished and propagated on their own, thus becoming naturalized palm trees in Central Florida.
Royal Palm
Though there is one species of royal palm native to Florida, the Cuban royal palm, Roystonea regia, is not. Despite this fact, it has managed to establish itself in the Central Florida region. The palm grows up to 75 feet and can handle temperatures as low as 28 degrees F, which is a borderline temperature for the Central Florida area. It needs abundant water and has pinnate, or feather-like fronds. It has a light gray trunk and a green crown shaft near the top.
Date Palm
The date palm, Phoenix dactylifera, is one of the tallest naturally-growing trees in the region and reaches up to 80 feet. Originally, this tree was located in the area of North Africa and throughout the Arabian Peninsula. As such, it requires slightly less water than the royal palm and can withstand temperatures as low as 18 degrees F, which makes it much more comfortable in the Central Florida region. It has pinnate fronds with no crown shaft.
Coconut Palm
The other naturalized palm tree in the Central Florida area is the coconut palm, Cocos nucifera. It can grow up to 75 feet, but often grows much shorter than that because of its tendency to have a curved trunk. Most coconut palms can withstand temperatures down to 30 degrees F, but some can go as low as 26 degrees F. Though the origin of the coconut palm is not known, it is considered highly unlikely to have evolved in the Central Florida region, as it thrives better in more tropical locations. This tree also has pinnate fronds.
Sabal Palm
The sabal palm, sabal palmetto, can grow up to 80 feet. The tree's fronds, called palmate, tend to resemble a fan and seemingly come from a single point on the branch. They are also more rigid than pinnate fronds. The sabal palm can withstand temperatures of 10 to 12 degrees F, and prefers full sun or light shade.
Saw Palmetto
The saw palmetto, Serenoa repens, is one of the smaller palm plants in the area. Most of its trunk structure is located underground. It only reaches a maximum height of approximately 8 feet, and many are much smaller than that. It can tolerate temperatures down to 19 degrees F and prefers full sunlight.