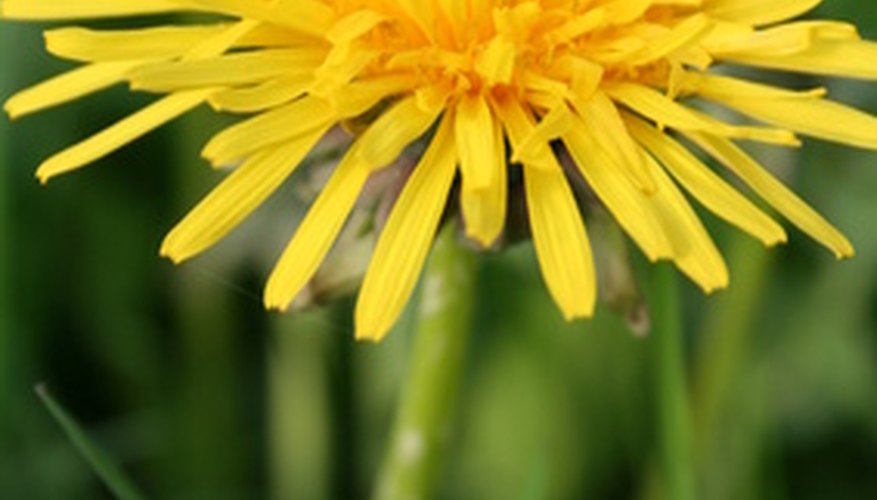 While the bright yellow dandelion has long been the nemesis of gardeners for its lawn-invasive tendencies in spring and summer, it always has had a place in the world of herbal healing and healthy living. According to the University of Maryland Medical Center, this herb is used as a liver cleanser, kidney purifier and a general health tonic and is also high in vitamins A, C, D, B complex and minerals, such as iron and potassium. Making a simple dandelion tea is an easy way to sip the healing properties of this prevalent medicinal weed.
Pick fresh, open flowers at the base where they meet the stem. Use your thumb and index finger to gently remove the flower head. It is best to pick flowers in the mid- to late morning on dry, sunny days so that they are free of excess moisture.
Pick fresh green leaves at the base of the stems. Use your fingers to pinch off the leaves close to the ground, and chop the leaves up with a knife. They don't need to be minced, just roughly chopped.
Spread the flowers out on a drying screen and leave them in a warm, dry place until all the moisture is gone. Spread the chopped leaves out on a separate drying screen. Drying will take a week or more. It is important to let the plant matter dry out completely, otherwise mold will form during storage.
Store the dried leaves and flowers in clean, dry jars.
Put 1 to 2 tbsp. of the dandelion leaves and flowers into a cup and pour boiling water over them. Let steep for 20 minutes.