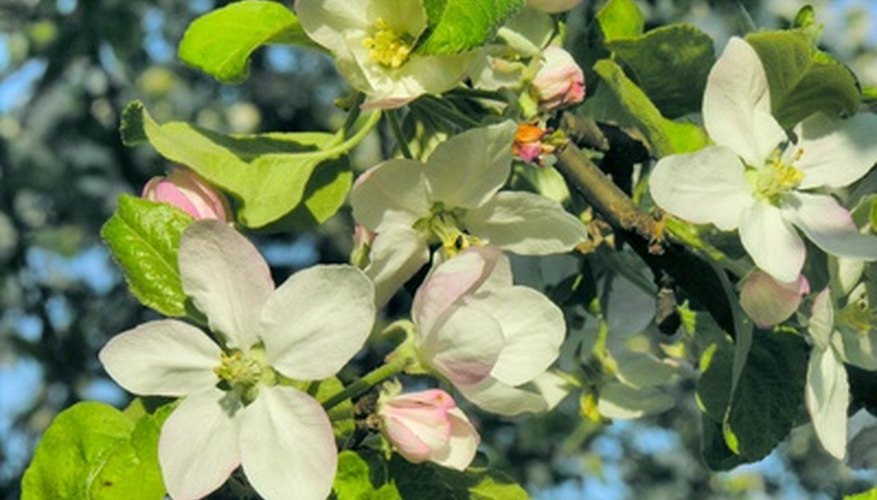 A variety of fruit trees grow in South Dakota, although the state's cold temperatures during winter eliminate a number of possibilities. While many fruit trees grow in any part of the state, gardeners need to remember that fruit trees usually require another tree with which to cross-pollinate. Cross-pollination means that the tree relies on pollen from another tree to pollinate its own flowers. This is the only way that fruit can grow.
Liberty Apple Trees
For crisp, juicy apples a bit on the tart side but perfect for eating and cooking, South Dakota gardeners plant Liberty apples. While this tree does require another apple tree for cross-pollination, this disease-resistant apple's abundant fruits ripen in October. Reaching up to 25 feet in height, this tree thrives in full sun in well-drained soil. This apple tree requires deep watering in hot, dry weather.
Summercrisp Pear Trees
While most pear trees do not grow well in cold climates, this early-season hardy pear thrives in South Dakota. This tree requires another pear tree for cross-pollination. Growing up to 25 feet in height, the tree blooms in May with fruits reaching maturity in mid-August. The fruit tastes best when it is still green with a red blush–the flesh tastes sweet, firm and crisp if eaten then rather than waiting for it to ripen. The tree thrives in full sun in well-drained soil.
North Star Cherry Tree
Since only tart cherries are hardy enough to grow in South Dakota, the North star cherry tree makes a great choice. One advantage to tart cherry trees is that they do not require cross-pollination. Instead, the tree self-pollinates, meaning you only need one tree to grow fruit, making it perfect for small gardens with limited space. Growing to 10 feet in height, this tree blooms in April; in June, a wealth of pie-perfect small, dark red fruits are ready for harvesting. Plant the tree in full sun with well-drained soil, making sure to mix organic material into the soil before planting.
LaCrescent Plum Tree
Since plum trees bloom early in the spring, their flowers are often killed by spring frosts. That's why the LaCrescent Plum tree works well in South Dakota gardens–it's very hardy and able to survive when other plum trees cannot. Featuring medium-sized yellow fruit, LaCrescent's blooms appear in April with sweet, juicy fruits ready for harvest in early to mid-August. Growing to 20 feet in height, this tree grows well in sunny areas with well-drained sandy loam soil.