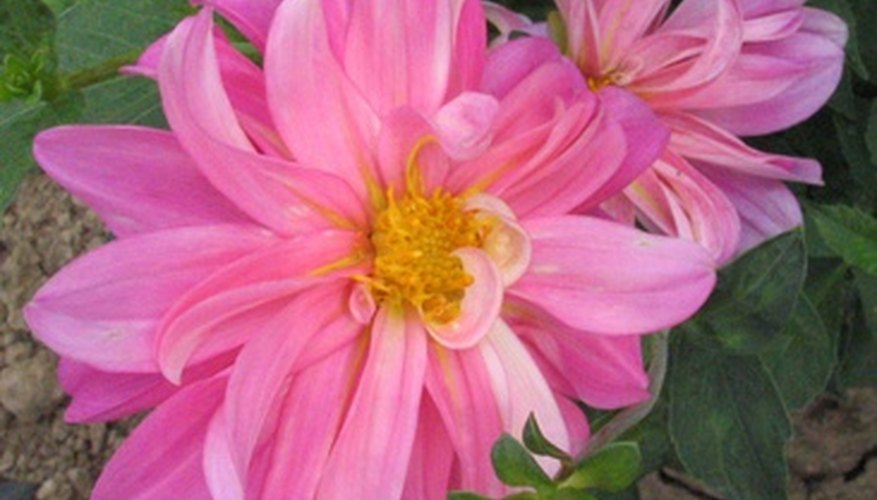 Dahlias are sun-loving flowers grown from tubers. The flowers produce brilliant blooms in many shapes and colors, depending on the variety you plant. Dahlias can last several years if you care for the tubers properly each fall. Like many bulb plants, they should be dug up in late fall and stored over winter in a temperature-controlled area. With proper care, you can ensure that next year's flower garden is as colorful with dahlias as this year's.
Cut the plants down to 8 inches, as recommended by dahliasociety.com. Allow the root to rest in the ground a few more days after cutting. This helps the root develop new nodes (which will develop into eyes later).
Use a pitchfork or garden spade to loosen soil around the dahlias and gently extract them from the soil. According to dahliabarn.com, you should allow one week after a frost before digging the dahlias. If a freeze is not forthcoming, withhold water to force dormancy. Stldahliasociety.com warns you must be careful when handling the tubers--do not shake them to remove dirt, for example--as they may break.
Rinse dahlias under a faucet (or your garden hose) to remove dirt. Remove any tuber that appears rotten, diseased or dried out, and throw it away. In addition, remove underdeveloped roots. Use your garden shears to clip away any remaining stem.
Sprinkle fungicidal powder on the crown. This helps prevent crown rot, according to stldahliasociety.com.
Wrap the dahlia clumps in damp paper towels, and place in a plastic bag or bucket filled with sawdust, covering them with sawdust. Store the dahlias in a damp and cool place until the early spring; the storage temperature should not be allowed to rise above 50 degrees, nor should it fall below 45 degrees.
Things You Will Need
Pitchfork or spade

Garden shears

Fungicidal powder

Paper towels

Sawdust

Plastic bag or bucket
Tip
According to dahliabarn.com, you can leave dahlias in the ground, although it may not be optimal. If you do so, cut stalks back about a week after the first frost (waiting helps ensure they are getting ready for dormancy). Cut the stalks back all the way to the ground, and then cover the area with mulch. You will still need to dig up and divide the tubers the following spring.
References