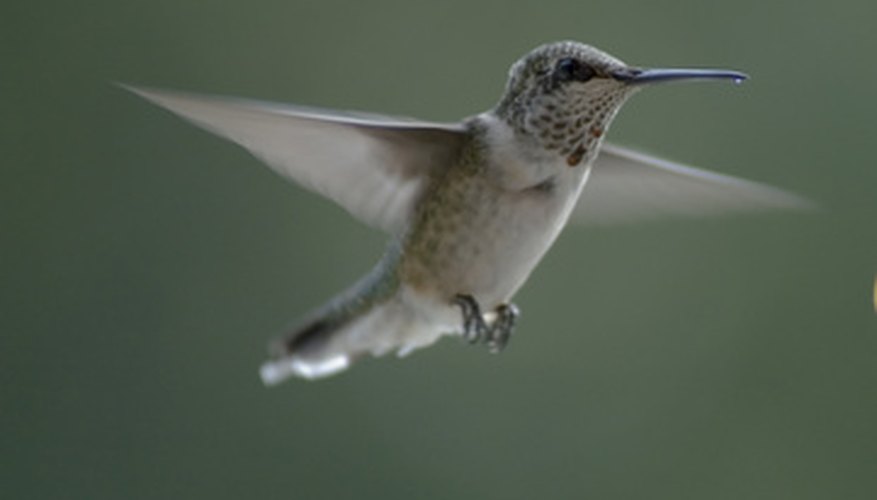 Hummingbirds, those delicate, tiny, hovering birds, are fascinating to watch and add variety to the landscape. Hummingbirds are attracted to colorful, trumpet-shaped blossoms with a high nectar content. Fragrance is not important as hummingbirds, like most birds, have no sense of smell. Plant a variety of flowers and shrubs to attract hummingbirds, and avoid spraying pesticides in your garden as they will kill the insects on which hummingbirds feed.
Butterfly Bush
Butterfly bush, formally Buddleia, is the name of a genus of more than 100 flowering plants. Most are shrub-like with slender, brush-like blossoms that emerge in early summer and last through fall. These plants are favorites of butterflies and hummingbirds due to their high nectar content and brightly-colored blossoms. Butterfly bushes thrive in full sun and well-drained soil, and can grow up to 10 feet tall. They are best suited for gardens in USDA growing zones five through nine.
Trumpet Vine
Trumpet vine, formally Campsis radicans, is also sometimes called hummingbird vine. It's easy to see why. This fast-growing vine produces lily-shaped blossoms in an array of bright orange, red and pink--hummingbird's favorite colors. This plant thrives in full sun in USDA growing zones four through ten. Trumpet vine can reach up 24 feet in length. In some regions, this plant can be invasive and quickly smother companion plants.
Hollyhock
Hollyhock, formally Alcea, is a genus of around 60 species that are native to central Asia. These plants have adapted well to North America and can be found in many country gardens. Hollyhocks are short-lived perennials or bi-annuals and grow to be around 5 feet tall. Hummingbirds love their brightly-colored, tulip-shaped blossoms that emerge in the mid-summer all along the stalk. These plants thrive in full sun in USDA growing zones two through ten, and are best grown from seed.
Rose of Sharon
The rose of Sharon, formally Hibiscus syriacus, is a deciduous shrub popular in the United States. The plant, native to east Asia, produces cup-shaped blossoms in pink, purple, red or white in mid-summer. A rose of Sharon can grow to be 8 to 10 feet tall and will thrive in full sun and well-drained soil. Although the blossoms just last for one day, they are quickly replaced by new flowers and their shape and color are hummingbird favorites. Rose of Sharon bushes are suitable for gardens in USDA growing zones five and higher.