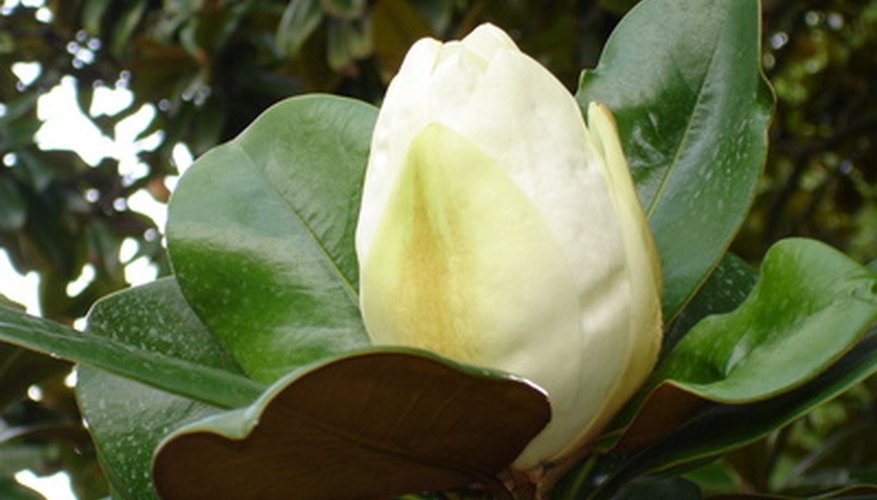 Although there are more than 80 species of magnolias native to areas of the eastern United States and southeastern Asia, magnolia trees typically are considered the quintessential tree of stately Southern landscapes. Many magnolia trees, including the "grandiflora," or Southern Magnolia, are simple-to-grow, virtually pest-free evergreen varieties with large shiny broadleaves and showy fragrant flowers that make them low-maintenance additions to any yard. Magnolia trees, however, can be difficult to transplant once established, but with some planning and care smaller trees can be successfully moved.
Measure the trunk size of the magnolia tree you want to transplant to ensure that it is no wider than 4 inches. Moving older, more established magnolias with larger trunks greatly decreases their chances of survival.
Cut a large circle into the soil and through the roots around the magnolia tree with a long-handled garden spade.
Dig out the tree carefully, leaving as much as the root ball intact as possible.
Place the root ball of the magnolia on a tarp. Wrap the tarp around the root ball. Place the tree in a wheelbarrow or other type of garden wagon and move to the new planting location.
Dig a hole twice as large as the root ball of the magnolia tree. Unwrap the tree and place it upright in the hole.
Backfill the hole with a mixture of top soil and organic compost until it reaches the tree's original planting depth. Pat the soil and compost mixture down well.
Apply 10 to 15 gallons of water to the ground around the tree with a slow-running garden hose or large bucket until the ground is saturated. Replace any soil that dislodges during watering.
Add a 2- to 3-inch layer of organic mulch to keep the moisture in the soil during the warm growing season and protect the tree from cold temperatures.