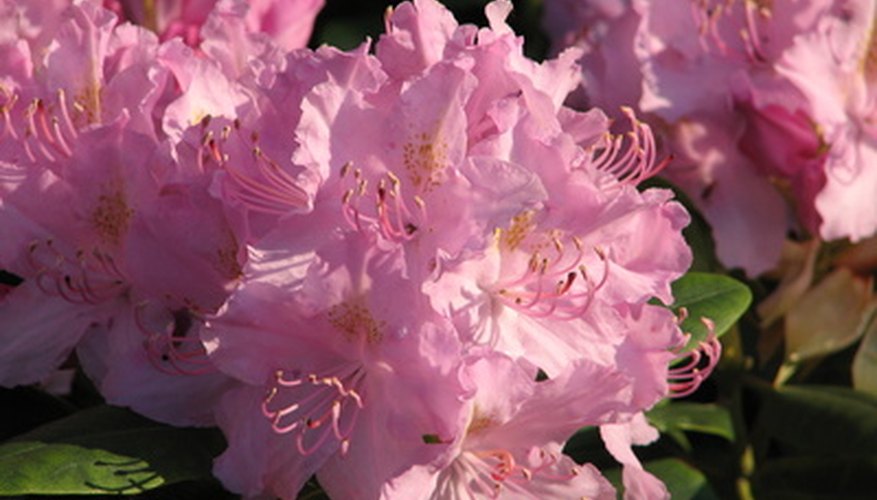 Partial-shade perennial plants make great choices for Pennsylvania gardeners because of the humid climate and long growing season throughout much of the state. Even in the higher elevations where cold winters and cool summers are the norm, perennials thrive in partial shade. Although partial shade plants require three to six hours of sun each day, they also need shade during the hot late afternoon sun. Consider planting these plants under trees that receive morning sun, or plant them on the east side of your house or other buildings.
Astilbe Ostrich Plume
Known for thriving in partially shady areas of the garden, this perennial takes things a step farther with show-stopping plumes of delicate, wavy pink flowers. The plant features graceful, fern-like leaves with tiny pink clusters of flowers arching over the foliage. Growing up to 3 feet tall, this plant prefers moist, slightly acidic, well-drained soil. Plant in drifts to create texture and color in your garden. To keep blooms from fading, provide regular water all summer long. If you want to attract birds, hummingbirds and butterflies love this plant.
Rhododendrons
Large clusters of blooms in either pink, red, purple, orange or white make rhododendrons a favorite of Pennsylvania gardeners. With more than 1,000 varieties to choose from, these plants thrive in partial-shade with most featuring spectacular blooms in early May through June. Sporting dark green evergreen leaves, rhododendrons grow in well-drained, acidic soil in humid areas protected from harsh winds. For starters, try Aglo with its bright pink clusters of flowers or Caroline with its fragrant light lilac flowers. For a compact, dense shrub with yellow flowers, try Capistrano. Try Edith Bosely for deep purple flowers, or try Fantastica with its red-rimmed flowers that fade to white in the center.
Bleeding Hearts
Early spring bloomers, bleeding hearts work well in partially shady spots, especially under deciduous trees that haven't yet leafed out in the spring. This native plant sports delicate fern-like foliage with long arching rows of 1-inch pink and white orchid-like flowers. The plant thrives in moist, well-drained soil. While the foliage dies back in late summer, the plant grows back each year, putting out new shoots. You'll need to divide the plants about three to four years after being planted.