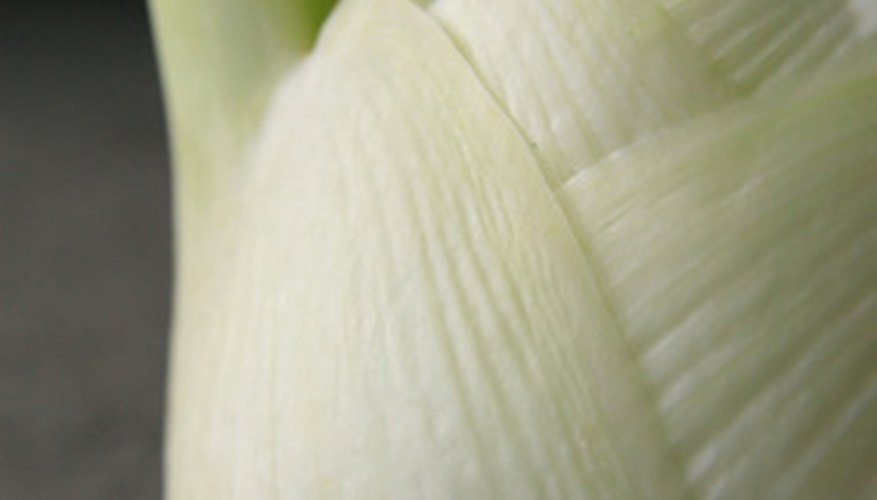 Like dandelions and purslane, wild fennel is an edible weed found growing throughout North America. The plant is commonly seen growing in open sunny fields. The plant's tender leaves, seeds and bulb are all edible and commonly used to add flavor to meat dishes. Grab a pair of pruning shears or a knife and explore a nearby vacant field to find a hidden harvest of wild fennel.
Pick the seeds. The seeds are commonly used as a standalone spice when ground, and can also be used to start new fennel plants in your own backyard. Seeds are ready for harvesting when they are brown in color and fall off of the plant easily. Place a container under the bunch of seeds and shake the plant to dislodge all of the ripe seeds.
Cut fennel leaves with scissors all season long for use in salads and other dishes that call for leafy vegetables. Choose leaves that are tender and soft, which are typically found on the tips of the fennel plant's shoots rather than at the shoots' base where the stem is woodier and the leaves are tougher.
Harvest the wild fennel's bulb. This is the most prized section of the fennel plant. Use a ruler and measure the approximate size of the bulb. It is ready for harvesting when it measures 3 to 5 inches wide.
Grasp the base of the wild fennel's stems. Use a knife and cut the bulb away from the fennel plant's roots at soil level. After severing the bulb, cut off the top stems an inch from the bulb. Take the wild fennel bulb home and rinse it under cold water. Use it immediately or store it in your fridge for up to a week.