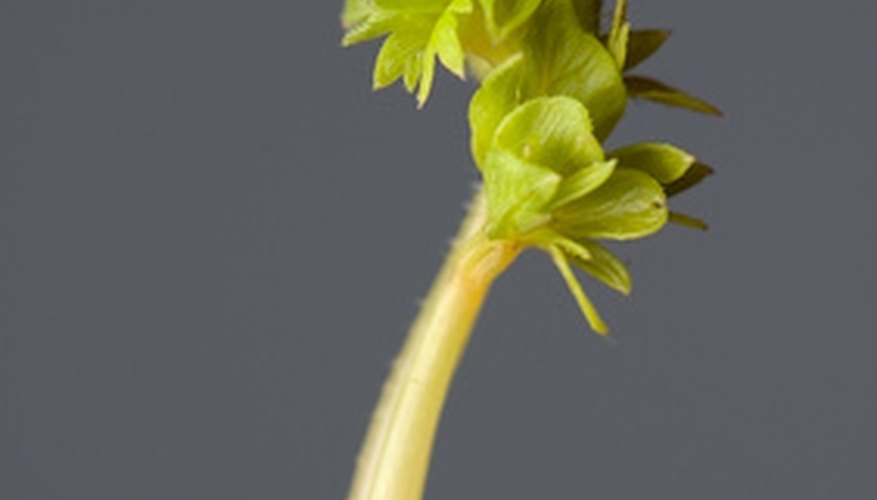 Green beans, also commonly known as string beans, are the quintessential garden vegetable. Though started green bean plants can be bought at most garden stores, they are often far more expensive than if you simply sprouted the green bean seeds on your own. The same goes for commercially sprouted seeds intended for consumption. Germinate green bean seeds at home, whatever your purpose, and save money.
Germinate Green Beans for Eating
Place two sheets of paper towels on a plate.
Sprinkle water onto the paper towels to thoroughly moisten them.
Place the green bean seeds on the moist paper towels. Add as many as you want to germinate, but avoiding letting the beans touch. If they're too close, the sprouts can tangle up in each other and separation of the fragile sprouts is difficult without breaking them.
Add another sheet of paper towels over the green beans. Sprinkle this sheet with water to moisten it.
Place the plate of beans inside a large plastic zip-top bag or, if the plate is too big, wrap the plate in plastic kitchen wrap. This traps the moisture inside and provides the beans with the humid environment they need to germinate.
Place the plate in a dark area that's relatively warm--the ideal temperature ranges between 70 to 80 degrees F--and wait for seven days. By this time, all but the non-viable green beans will have sprouted.
Sprout Beans for Planting
Pour an inch of gravel into the bottom of a standard gallon-sized plant pot. Fill the rest of the pot with a potting mix or topsoil amended with an inch of compost.
Sink two green bean seeds into the middle of the pot approximately 2 to 3 inches apart and an inch below the surface of the soil.
Water the pot twice daily or as needed to keep the soil moist. Place the pot in a sunny location that receives a minimum of five hours of direct sunlight. The green bean seeds will germinate and break the surface of the soil within 14 days.
Thin the bean seedlings once they have reached 2 to 3 inches in height. Choose the seedling that's taller and more vigorous in appearance than the other--characteristics to look for include height, number of leaves and brightness of color--and remove the other seedling.