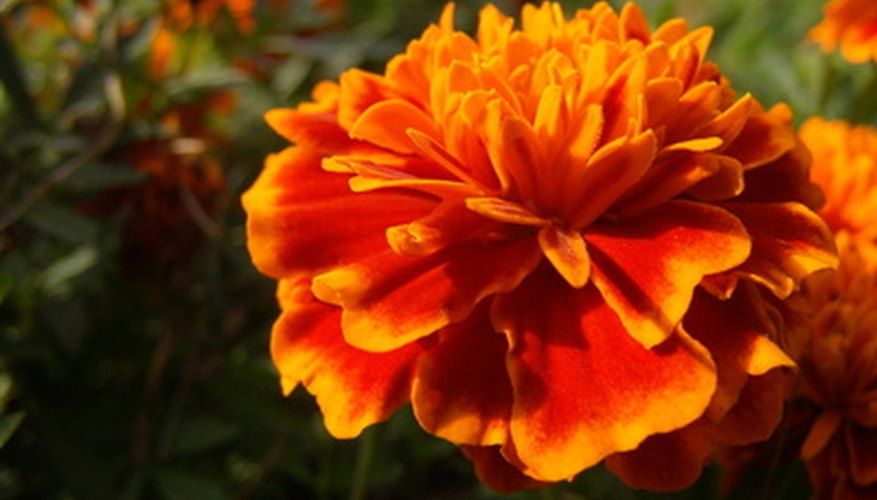 Many annual plants have a variety that produces orange flowers—bees are attracted to this bright color. Orange flowers stand out from a distance and are excellent flowers to grow in front yards because of their high visibility from the street. Pair them with other warm-colored flowers in yellows, rusts and reds for an eye-popping flower bed.
Cosmos
The variety of cosmos bright lights (Cosmos sulphureus Bright Lights) produces flowers in shades of red, yellow and orange. Cosmos bright lights grow 24 to 30 inches high. The plants are multibranched and produce flowers that originate in the leaf nodes all along the branching stems. The flowers are single with ridged petals. Grow them in full sun in well-drained soil. Plant seeds about two weeks prior to your last spring frost. Cosmos are prolific reseeders and volunteer seedlings germinate several weeks before frost-free weather. These volunteers show good tolerance to light to moderate frosts in spring, unlike transplants, which are more frost-tender in spring. Cosmos will continue blooming until the plants are killed by a hard freeze in autumn.
Marigolds
One of the most widely grown flowering annuals, marigolds (Tagetes spp.) are available in shades of yellow, gold and rust, along with solid and bicolored orange varieties. They range in height from less than a foot to up to 4 feet. Marigold flowers can be as small as an inch across up to 4 inches across and are either single or double. Like all other annual flowers, grow marigolds in full sun and well-drained soil. Plant some marigolds in your vegetable garden, their scent discourages pests from browsing there.
African Daisy
African daisies (Dimorphotheca aurantiaca) are spreading annuals whose flowers resemble the common daisy. They are available in shades of orange, yellow and white. Sow outdoors in midspring about 10 days before your last spring frost. Grow in full sun in well-drained soil. Although they are native to South Africa, they have become naturalized in the southern and western United States.