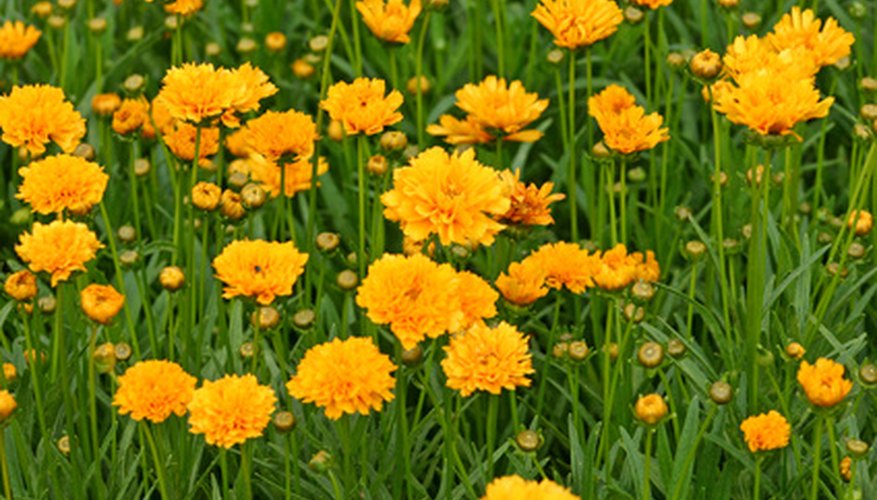 Planning a flower garden presents certain challenges. One objective is to have something blooming all season long. One solution is to include successive blooming flowers, or different species that bloom one after another. This provides interest in different sections of the garden throughout the growing season. Another solution is to set out long-blooming plants that have repeat flowers all summer long. Look for long blooming varieties that tolerate a range of temperature zones. These varieties are likely to grow well no matter where you live.
Yarrow
Yarrow (Achillea) is a perennial with over 100 species. Wild yarrow has been bred to have dozens of flower colors and shades, from white and pastels to very bright pinks and yellows. Yarrow is considered a weed in some areas, which means that if you have less than perfect growing conditions in your garden, yarrow is a good candidate for pretty blooms all summer until frost. Water yarrow regularly until it is established, and then it will tolerate some drought conditions. Too much fertilizer causes yarrow to have soft stems. It tolerates rocky or poor soil. Plant yarrow in full sun. Keep spent flowerheads trimmed off and it will bloom repeatedly. Yarrow blooms from late spring until frost in US zones 3 to 9.
Coreopsis
Coreopsis is a flowering plant native to the southeastern United States. It can be found growing wild along roadsides and in meadows there, and it is a popular garden perennial in other parts of the country. Coreopsis grows in a mound anywhere from 18 to 48 inches tall. Make divisions of coreopsis every two or three years in the spring or fall, or allow some flowers to go to seed. It will grow in ordinary soil with no special fertilizer requirements, and it tolerates salt spray and wind in an ocean-side setting. Coreopsis is not bothered by heat. Use the cheerful yellow flowers for cutting; they are long-lasting in a vase. Coreopsis is hardy in US zones 5 to 10, and blooms from June until frost.
Gaillardia
Gaillardia (Gaillardia pulchella) is also known as Indian blanket, blanket flower or firewheel. Native to the US, gaillardia grows wild from Virginia to Colorado and New Mexico. Gaillardia flowers have dark copper-colored centers with daisy-like petals that are usually dark rosy copper near the center, changing to yellow at the tips. More than 24 species of gaillardia have various color combinations, and some hybrid varieties are double or globe shaped. Plant gaillardias in full sun. They are drought tolerant, and do not need special fertilization. They grow in salt conditions in seashore gardens, even in sandy soil. Use gaillardia in meadow wildflower seed blends and allow them to reseed naturally. Gaillardias grow in US zones 2 to 9. They bloom from spring through summer, and longer if you keep the spent flowers trimmed.