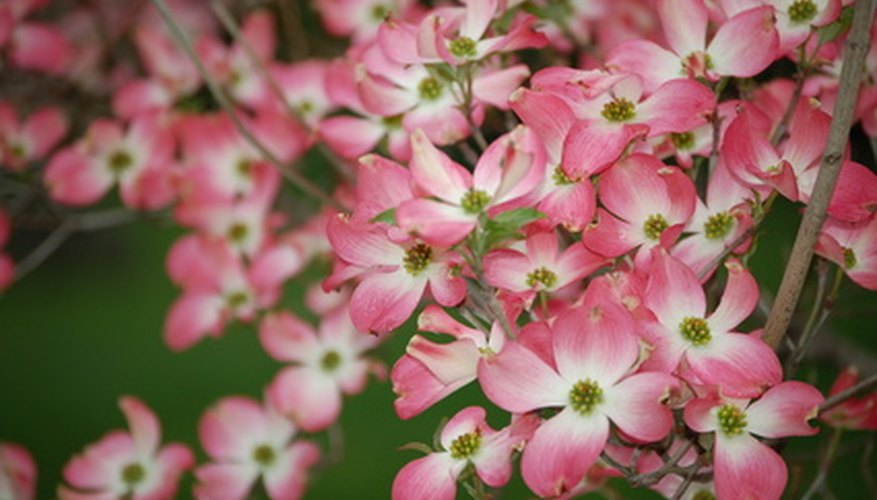 Its location in the American heartland has given Missouri a climate of extremes. Winter cold can rival that of New England while summer heat and humidity can approach that of the Gulf States. Gardeners struggling to create landscapes with ornamental trees in such a climate would do well to stick with native species. Missouri's native trees will more than oblige, with many trees providing garden interest in every season.
Cockspur Hawthorn
Cockspur hawthorn (Crataegus crus-galli) is a small--25 to 35 feet high and equally wide--thorny tree. Its horizontal branches have glossy spoon-shaped leaves that become orange or red in autumn. Dense late-spring white flowers precede autumn apple-like scarlet fruit that feeds wildlife and birds. The fruit stays on the trees until January.
Groups of trees form ornamental thickets that shelter wildlife and act as privacy hedges. Their thick branches touch the ground, however, so plant them in spots where you don't want grass. Trees like full sun or partial shade and moist, acidic well-drained soil. Drainage is more important than soil type--sand, sandy loam, loam and clay are acceptable. While cockspur hawthorn withstands city pollution, it's vulnerable to insect pests and rust. Shape the trees with winter or early spring pruning.
Tulip Tree
A member of the magnolia family, tulip tree (Liriodendron tulipifera) is an outstanding ornamental in locations that can handle its up to 150-foot height. Tulip tree, with an erect 4 to 6-foot diameter trunk and narrow crown, has smooth green leaves that change to gold in the autumn.
The tree's glory, however, is its spring display of yellow trumpet flowers. Blooms have a distinctive orange band at the base of their petals and attract hummingbirds and butterflies. Dry cone-shaped brown fruit containing winged seeds follow the flowers.
Tulip trees thrive in full sun and organically rich, moist well-drained loam. Their shallow root systems restrict the kinds of plants that grow beneath them. The trees drop their leaves during extended dry periods, but are relatively disease and pest resistant.
Flowering Dogwood
From mid-to-late April the woods and yards of Missouri are at their spectacular best with the blooming of the State Tree, the flowering dogwood (Cornus florida). Masses of 3 to 4-inch pink or white flowers cover the horizontal branches of these 20 to 40-foot trees. Dogwood puts on a three-season color display with bright red late summer berries and crimson autumn leaves. Birds, deer and other wildlife feed on its berries.
The trees prefer partly shady to shady locations with acidic well-drained soil. They do best in sand or sandy loam, according to the Lady Bird Johnson Wildflower Center. Mulch them to keep the soil from drying out completely, and prune them in early spring to them maintain their shape. Feed with azalea fertilizer in spring and autumn.