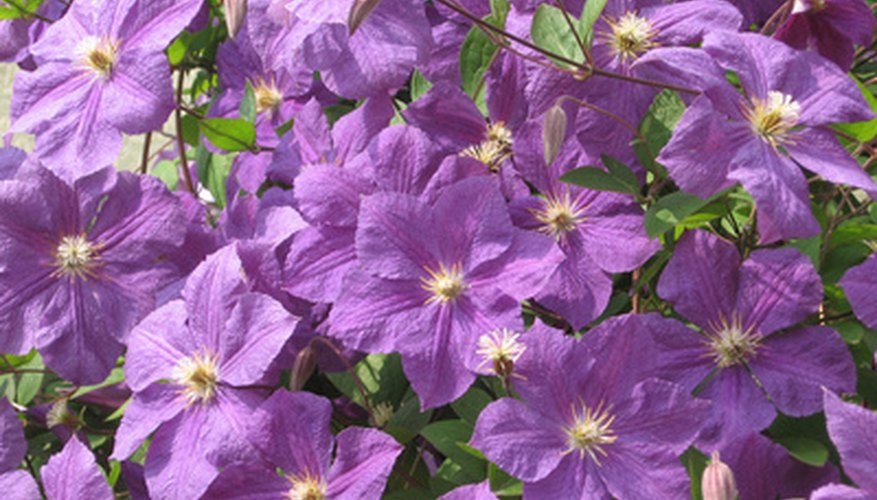 Annual flowers are optimal decorative gardening choices in climates where the growing and blooming seasons are fairly short, since many perennials will not always survive abnormally long winters. But in cases like this, it's also beneficial to choose annuals that grow especially quickly, thereby allowing you to take as much advantage as possible of the short warm weather period.
Morning Glory
Morning glory is an annual vine known for its bright flowers and extreme rate of growth. In warmer climates where morning glory thrives best, it can grow so quickly that it may even become a hindrance, spreading uncontrollably to undesired areas and even smothering other plants. Its vines will hug the grass and soil to grow as groundcover, but it just as easily grows along walls and fences.
Because the vines can be quite thin early in the growing season, morning glory may occasionally need to be supported with stakes in order to climb. Its vibrant trumpet-shaped flowers, often a rich blue, open each morning and die after sunset, giving this plant its name.
Snapdragon
The snapdragon is characterized by its usually tall, straight stem covered by distinctive two-petal, trumpet-shaped blossoms. Snapdragons are available in a tremendous range of colors, adding to its great popularity as both a garden annual and a flower bouquet choice. Most snapdragon varieties will grow 1-3 feet tall, but some types have been engineered to be much smaller.
While snapdragons grow very quickly under optimal conditions, it tends to be a rather sensitive flower; regular watering and a well-drained soil rich in nutrients are musts. Overly shady areas are not appropriate for growing snapdragons, which need lots of sun, and they will not tolerate extremely hot climates.
Marigold
The marigold is both a fast-growing and durable annual choice for any flower garden. Widely considered one of the lowest-maintenance flowers and among the easiest to grow, marigolds tend to take well to most climates and soil types. The only real threat to the marigold is the first frost at the end of the growing season, which usually kills them.
French varieties can grow to around one foot, while African marigolds can reach 3 feet. A hybrid variety between these two, called triploid marigold, is also on the larger side but blooms constantly throughout the growing season.