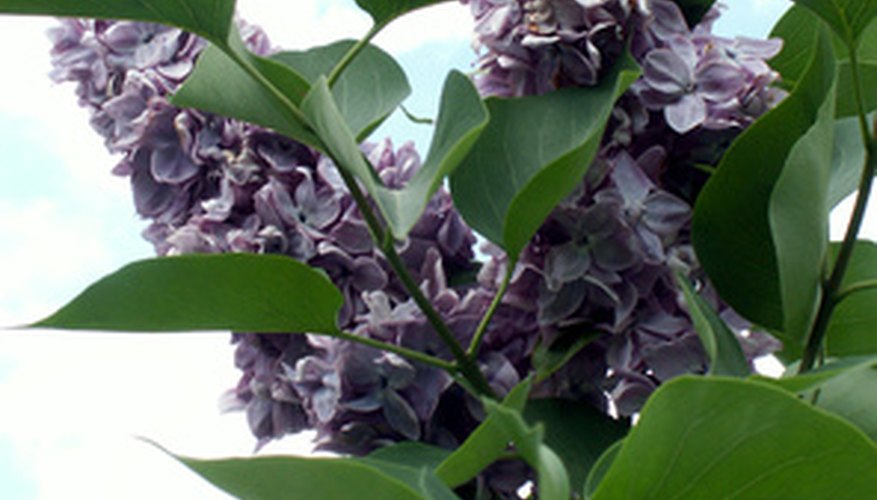 Lilacs are large, spring-blooming shrubs that feature masses of fragrant flowers ranging in color from white to purple. Some even have variegated blossoms. Lilacs can vary in height, but most average 15 feet tall and around 10 feet wide. There are over 20 species of lilacs. The most common in the United States is Syringa vulgaris, which has hundreds of forms, according to the master gardeners at the University of Connecticut.
President Lincoln Lilac
This traditional variety of lilac features flowers that are the closest to true blue out of all the lilacs. The tiny clusters of blooms have a single layer of petals and appear in late May. The plant has a pleasing fragrance, but the flowers do not last long if cut and placed in water. President Lincoln is fast-growing and averages around 10 feet tall and 8 feet wide.
Himalayan Lilac
The Himalayan lilac is best known for its late-blooming flowers, which unlike most lilacs, do not appear until early or mid-June. This plant features pink flowers and averages around 10 feet in height.
Katherine Havemeyer Lilac
Pink-flowering lilacs are not considered to be as hardy as their purple-flowering counterparts, but the Katherine Havemeyer lilac is an exception. This 12-foot tall lilac has double-petaled, very long-lasting blooms that are a light, delicate pink. The plant is very resistant to mildew and other fungal diseases.
Japanese Lilac
The Japanese lilac is one of the strongest-smelling lilacs, with a very pleasing fragrance. The flowers are cream-colored or yellow. This plant is the largest type of lilac and can reach a height of 36 feet. In fact, many gardeners call this plant a flowering tree rather than a shrub. Like most other lilacs, it blooms in May.
Beauty of Moscow Lilac
This upright, round lilac is desirable for its pink and white flowers, which begin as pink buds and become whiter as the flowers open and the summer progresses. Beauty of Moscow grows up to 12 feet tall and 8 feet wide. This lilac, like most, can be trained to grow either as a shrub or as a tree.