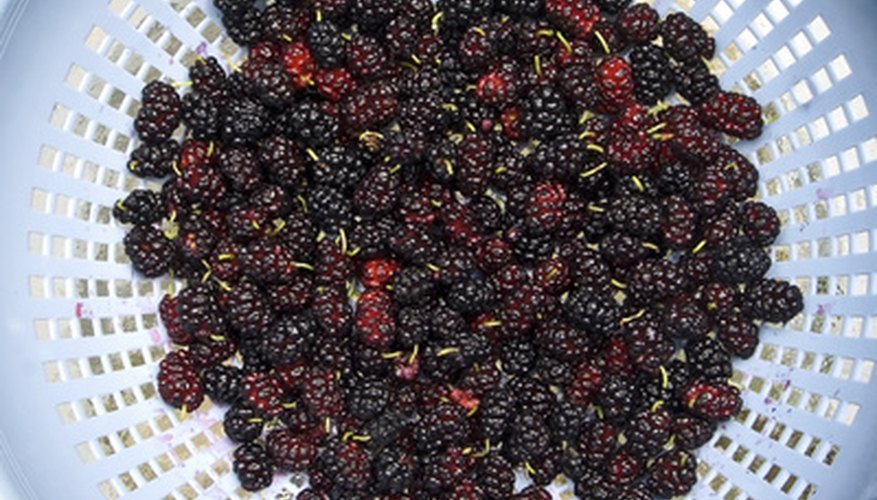 Some people think of blackberries are being wild and weedy, while other consider the fruit one of the best treats of summer. Substitute blackberries for any recipe that calls for raspberries or strawberries, and blackberries may be made into jam, jelly or syrup or baked into pies or muffins. If you have a glut of blackberries in your garden this summer, consider preserving them so you can experience the luscious taste of summer blackberries in the middle of winter.
Freezing
Rinse and gently pat the blackberries dry.
Lay the blackberries out in a single layer on a baking sheet and freeze them for about two hours until they are solid and stiff.
Transfer the blackberries to plastic freezer bags, label the bag with the date, and place them in the freezer. Frozen blackberries are best used within six months.
Jam
Rinse the blackberries and place them in a large pot. Mash the blackberries with a fork or potato masher.
Add sugar to taste. Blackberries may be somewhat tart, and you might want to use a cup of sugar for every 2 to 4 cups of crushed blackberries. Begin with a small amount of sugar and add more to suit your preference.
Place the pot over medium heat on the stove. Stir often to prevent scorching.
Remove the pot from the heat when the jam thicken and holds its shape in the spoon. This should take about 15 to 20 minutes.
Fill canning jars with the blackberry jam and process in a water bath. You may also freeze jars of blackberry jam so long as you leave about an inch of headroom in the jar for expansion.
Syrup and Jelly
Rinse the blackberries and place them in a large pot. Add just enough water to cover the berries. Mash the fruit and cook it over medium heat for about 10 minutes, stirring often. Allow the fruit mash to cool slightly.
Strain the fruit mash through a sieve lined with cheesecloth to remove the pulp and seeds. Press the fruit with a spoon to extract as much juice as possible.
Add sugar to the blackberry juice to taste.
For syrup, return the sweetened juice to the heat and cook for another 5 to 10 minutes, until it just starts to thicken but still drips freely from a spoon. Pour the syrup into canning jars and process in a water bath, or refrigerate for up to three months. Blackberry syrup may be used on pancakes, waffles or ice cream.
Return the sweetened juice to the stovetop if you're making jelly and cook over medium heat for 10 to 20 minutes, until the juice clings to the spoon and drips off in thick sheets. Also test the doneness of jelly by placing 1 tsp. of the hot, sweetened blackberry juice on a plate and placing in the refrigerator for a minute to see if it gels. Transfer the jelly into canning jars and process in a water bath.