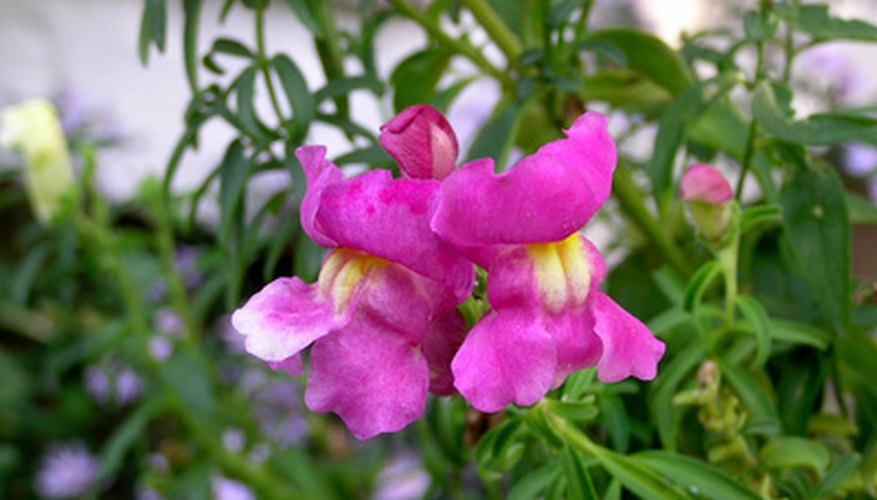 Commonly called "summer snapdragon," Angelonia augustifolia has been extensively hybridized, including a newer introduction known as the "Serena" series (Angelonia augustifolia 'Serena'). Unlike snapdragons, which grow best in cooler weather, angelonias prefer the hot weather of summer and bloom copiously during July and August. It is a perennial in its native Central America, but is grown as an annual in areas north of USDA hardiness zone 10. They make an excellent cut flower, often lasting over 10 days in indoor bouquets.
Appearance
Angelonia Serena looks like snapdragons. Each plant grows about a dozen bell-shaped spiky flowers that open from the bottom up along a stem that is held above the plant's foliage. They come in white, pink, blue, lavender and purple varieties. Some cultivars are speckled or bi-colored. Flowers bloom in mid-summer.
Site Selection
Plant angelonia Serena in a site that is in full sun with well-drained soil. This variety grows only 12 to 18 inches tall and makes an excellent edging or border plant for the perennial flower bed. They also grow well in hanging baskets or container gardens. Pair them with plants that have silvery leaves, such as Dusty Miller, silver plectranthus or perennial herbs such as lavender or rosemary.
Varieties
The series of summer snapdragons, Serena angelonias, are available in several cultivars. 'Pandiana' has light pink flowers, 'Blue Pacific' is a variety with blue and white bi-colored flowers and 'Alba' is a variety with white flowers.
Care and Culture
Grow angelonias from seed, tip cuttings or root divisions. Incorporate slow-release granulated fertilizer into the soil when planting. Allow them to dry out a little between waterings, but provide them with the equivalent of an inch of rainfall per week.
Pests and Diseases
Some of the bi-colored varieties are susceptible to plant viruses, but the Angelonia Serena series are bred to be resistant to viral diseases. They are rarely bothered by insects or other garden pests.