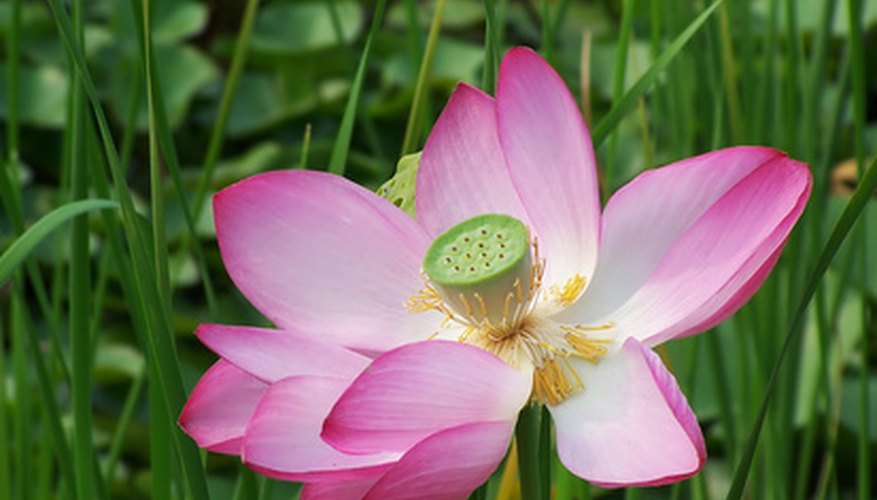 Lotus are water flowers that grow in shallow pots and ponds. These white or pink flowers produce seed pods that are edible. Lotus is closely associated with Asia and with Buddhism. Lotus grows from muddy depths through clear water to form beautiful plants and flowers.
Propagation
You can grow lotus either from seed or from tubers. Growing lotus from seed is much more difficult than growing from tubers. Growing from tubers will generally result in more successful lotus cultivation.
If you want to over-winter your tubers, make sure the tubers are below the frozen level of the ice in the pond or kept in a warmer area. Freezing will kill the tuber, but cold will simply help it remain dormant until spring.
Planting
To grow lotus from tubers, plant the tubers eye up in a pot with several inches of potting soil. Put a rock on the tuber to keep it from floating up and put sand over the soil to add more weight. Keep between 4 and 10 inches of water in the pot over the subsoil.
Light
Lotus grows best in very sunny conditions. Position your pot or pond in a place that is not shaded at any time of day. In addition to creating optimal growing conditions, the light angling through the flowers in the morning and evening can create unusual subtle shadows and colors.
Fertilization
Lotus don't generally require a lot of fertilizer. However, a bit of fertilization can help keep your plant healthy. Fertilize your lotus in the spring using a good, balanced aquarium fertilizer or African violet fertilizer. If you are using fertilizer pellets, make sure the fertilizer pellets don't touch the tuber.
Varieties
There are many types of lotus. Some lotus are almost pure white. Other lotus are pink or have a coloration that ranges from white to pink. Although some lotus are thought to be blue, most "lotus" that aren't pink are, in fact, water lilies and will not produce a lotus seed pod. Lotus can range from small plants that will suit a small container to very large plant that will grow best in a larger pond.
Resources