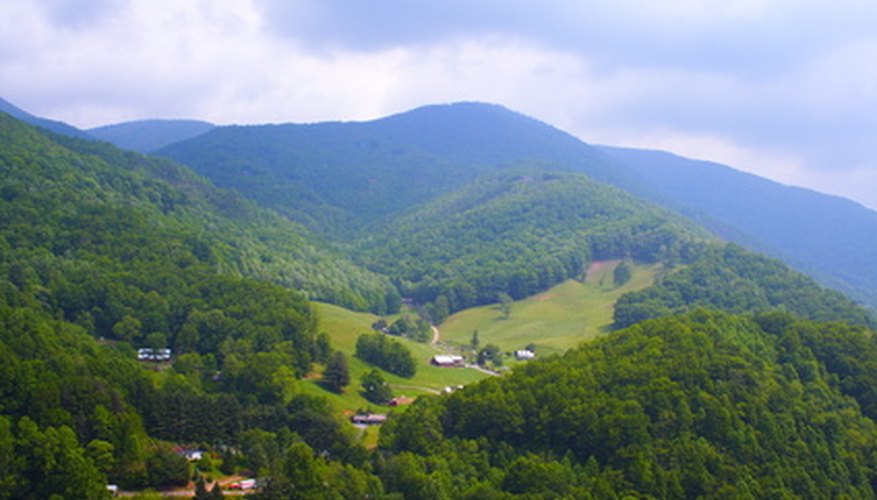 From the ocean-swept Outer Banks to the mist-shrouded peaks of the Blue Ridge and Great Smokey Mountains, North Carolina is home to a vast array of native flowering plants. While each has adapted to its particular ecosystem, many of these bloomers are desirable additions to home gardens. Others, however, are best left undisturbed to share their beauty with those who enjoy North Carolina's wilds.
Kentucky Yellow-Wood
Kentucky yellow-wood (cladrastis kentukea) grows up to 50 feet high with a similar spread, providing excellent shade. It's a graceful tree with drooping branches and vivid green leaves. Mature trees--older than 10 years--produce showy cascades of creamy yellow flowers between April and June two or three times in each decade.
This tree grows wild in North Carolina's river valleys and ravines, but is rare throughout its range. While its deep roots allow grass and smaller shrubs to grow in yellow-wood's shade, they make transplanting difficult.
Young plants are available at nurseries. They like partly shady locations with rich, well-drained pH-neutral soil. Don't prune them right after planting or during the spring. Established trees are drought- and pest-resistant.
Southern Magnolia
Southern magnolia (Magnolia grandiflora) is a tree as closely identified with the American South as sugar maples are with Vermont. Their distinctive pyramid forms (which are glossy, 5 to 10 inches long, and bi-colored with green on top and rust tones underneath) evergreen leaves and exceptionally large and fragrant white blooms set these trees apart.
Mature Southern magnolias usually attain a height close to 50 feet. During the summer and fall, the trees are covered in creamy-white 8-inch blossoms at the end of thick stems. The cup-shaped flowers open at mid-morning and close at dusk for up to 3 days before dying and dropping from the trees. Cones of red seeds follow the flowers.
The trees like partly shady locations with acid, sandy or sandy loam soil. Rapid growers, they provide dense shade. Grass seldom thrives beneath them. Prune them after blooming but before they become dormant. A mulch of their fallen leaves nourishes the trees. Dried leaves are useful in floral arrangements.
American Mountain Ash
A member of the rose family, American mountain ash (sorbus Americana) grows wild in the North Carolina mountains. Seldom reaching more than 20 feet, this shrub has a narrow, round form. Branches have scarlet leaf stems and green leaves that become yellow-orange in autumn.
During May and June the bushes have flat clusters of white flowers that give way to red berries, a food source for birds. The Lady Bird Johnson Wildflower Center warns, however, that the ingested seeds may be poisonous to humans.
The bushes like cool, moist acidic soil and tolerate sunny, partly shady and shady growing conditions. Thin bark leaves young plants vulnerable to permanent damage from foraging wildlife. Plants of all ages are susceptible to a number of diseases and pests.