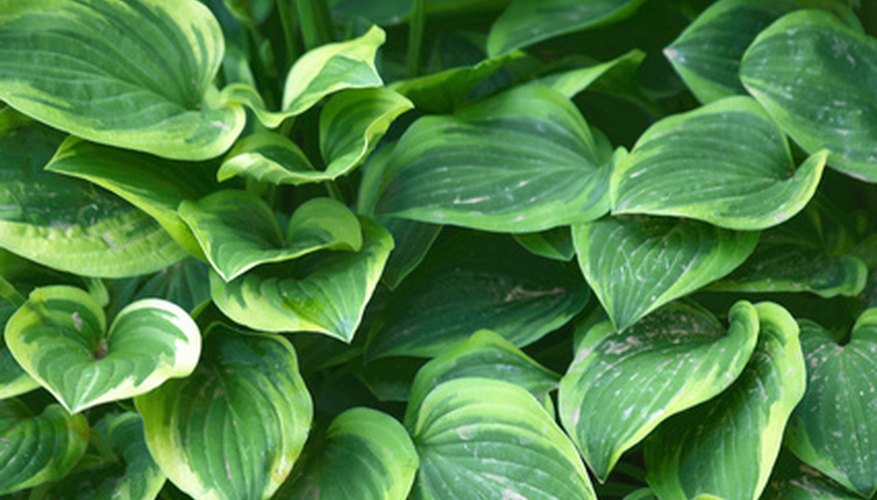 Hostas are among the most popular plants for the shade garden. Over the years, hosta hybrids have been developed that encompass a wide variety of size, leaf shape, color and texture. For those who enjoy their blooms, there are varieties whose flowers are extremely fragrant. Plants that go well with the versatile hosta have similar growing needs: partial shade, a few hours of morning sun and humus-rich soil that is evenly moist and well-drained.
Bergenias (Bergenia cordifolia)
This perennial evergreen has glossy, heart-shaped leaves. Pink or white blooms appear in early spring atop thick clumps of foliage, often appearing before hostas produce flowers. Bergenia foliage remains green throughout the year, and some varieties have the added interest of developing red, bronze and yellow tinges as fall approaches. Generally undemanding, bergenias make a nice contrast to hostas and provide attractive fillers for the bare spaces left after hostas have died back in the fall.
Hellebores (Helleborus orientalis)
In the shade garden, texture is as important as color. From late fall until early spring, the leathery, divided leaves of this hellebore species are lush and ever-green. Popularly known as Lenten rose, h.orientalis begins flowering in early spring in shades of white, green and purple. Lenten roses produce abundant blooms which continue for weeks, even months if the weather is cool enough. As well as providing an interesting foil for hostas, Lenten roses are lovely, long-lasting cut flowers that are very attractive in arrangements that include hosta leaves.
Ferns
The many shapes, textures and varieties of ferns available rival those of the hostas, making them ideal companion plants. Autumn ferns (Dryopteris erythrosora) provide color throughout the growing season, producing coppery red fronds in spring, which turn green for the summer months before becoming bronze in the fall. Japanese painted ferns (Athyrium nipocum) sport silvery-gray leaves with a contrasting red stem. Japanese painted ferns pair especially well with the blue hosta varieties. Maidenhair ferns (Adiantum) have fine, fan-shaped leaves growing on thin, wiry stems. The airy, graceful texture of these ferns looks especially lovely when planted with broad-leaved hostas.
Pulmonarias
Pulmonarias are low-growing plants that are among the first perennials to emerge in late winter and early spring. The oval leaves, speckled with white or silver, grow in rosette mounds that remain attractive throughout the fall. Some pulmonarias are ever-greens in mild climates. These plants produce bell-shaped flowers in shades of white, pink, reds and lavenders. Pulmonaria flowers add color, and the mottled leaves provide interest and texture to the shade garden, particularly welcome during the hosta plants dormant period.