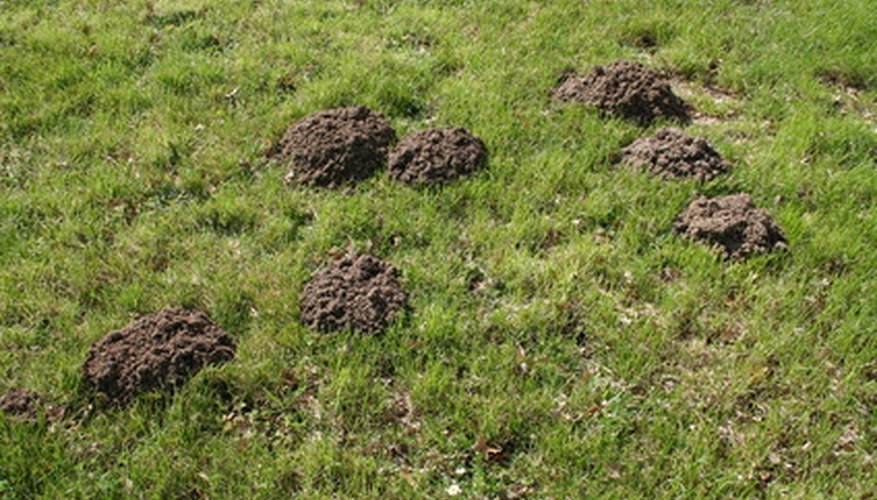 Lawns that have grubs and earthworms will have moles, underground mammals burrowing through tunnels in search of food. Just a single mole can create many tunnels. Chemicals can be applied to deter the mole or rid the lawn of its food source. These chemicals can be costly and may harm other animals. The most effective method for killing moles in a lawn is to use a mole trap, which will kill the mole underground as it travels through the tunnels.
Establish which mole tunnels are the most traveled. Use the heel of your foot and tamp down all tunnels in the lawn. Moles will use auxiliary tunnels only occasionally while using other tunnels on a permanent basis.
Observe which tunnels have reappeared. In some cases, the tunnels may be re-formed in a matter of hours or it may take until the next morning. During the heat of the summer, moles may use the tunnels only during the cooler evening hours.
Mark the tunnels consistently traveled by the mole. These are the best choices for setting the mole trap.
Insert the moles trap over the tunnel. In most cases, the trap will be supported by two metal legs that must be pushed into the lawn. Spanning the two legs will be the trigger and knife mechanism. Not all mole traps use the same cocking and trip mechanism. Consult the manufacturer's specifications for each particular model.
Set the trip mechanism, then pull the trap from the tunnel. If the trap is successful there will be a mole captured in the device. Dispose of the mole.
Tamp down all tunnels that have reappeared. Check the tunnels again the next day. If they have been used, set the trap again. Continue until all signs of moles are gone.