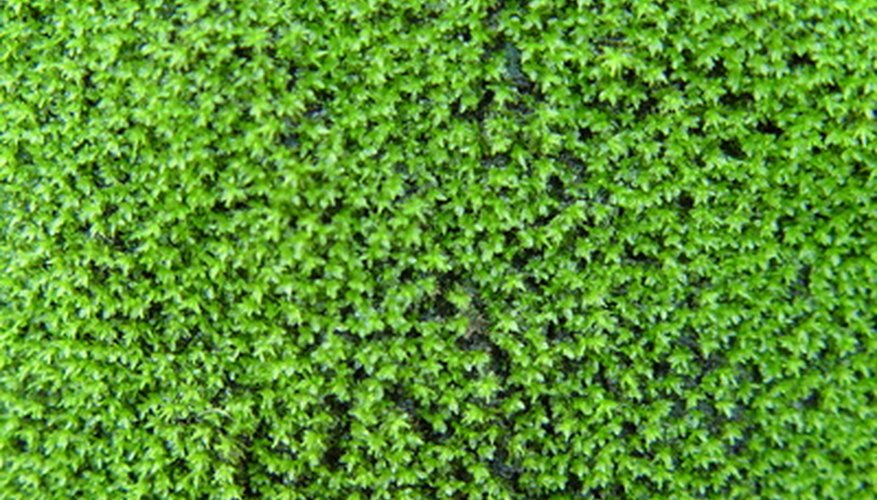 Irish moss (Sagina subulata) grows best on damp, sandy soil in dappled shade. It is a very low-growing green spreading plant that is not really a moss. Irish moss can be seen growing on forest trails and at the edges of forests where there is bare soil. It recovers easily from the pressure of light foot traffic and drought. Irish moss is often used in floral crafts, such as to cover the soil around a potted plant. In landscaping, it is used to fill in areas around paving stones or placed over and around stones and boulders in a rock garden.
Clean the area of all vegetation between and around the stones where you want to plant the Irish moss. If the stones are not already in place, clear the entire area of vegetation and rake smooth.
Make a mixture of 1/2 compost and 1/2 washed sand. The compost provides some nutrients for the Irish moss and the sand helps the area between the stones stay well-drained. Cover the area where the moss is to be planted with a 1/2-inch layer of the sand and compost mixture. Arrange stones as needed, and dampen the area where you are going to plant the Irish moss with water.
Take sections of Irish moss and place it between the stones as needed. Press the Irish moss down so that it has contact with the dampened sand and compost mixture that was placed between the stones.
Spread a very thin layer of compost and sand mixture over the newly laid Irish moss. Don't cover the moss, just add a layer thin enough to allow the sand and compost to wash down into the moss and help hold it in place.
Water the Irish moss to secure in place by spraying gently with water. Wash the compost and sand mixture down into the moss layer. Keep the Irish moss damp, but not wet, until it is established. After it is growing well, it can dry out, but will come back nicely once it receives water.