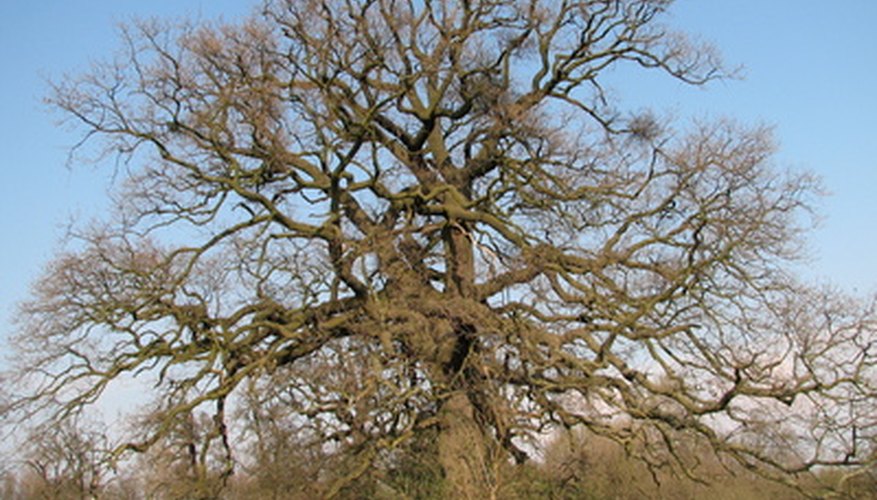 There are many oak tree species that live well over 200 years. These long-living, broad-leaved trees are a commanding landscape presence that are ideal for providing shade and habitat for wildlife. Oak trees are also a source for wood and lumber. Oak wood is extremely durable and tough and has interesting grain swirls to admire. Oak trees are also very large and can withstand nature's elements, like high winds and extreme cold. Their fall color is striking and lights up the landscape every year.
Columnar English Oak
Columnar English oak is deciduous and prefers full sun. Its narrow form is columnar in shape, hence the name columnar English oak. This slow growing oak tree prefers well-drained soils and open areas. It grows up to a commanding 60 feet high and 15 feet wide. The dark green leaves have a bluish tint and grow up to 5 inches long. The leaves retain their green color into the winter, making for a bright burst of color to the landscape. The USDA hardiness zone is 5 to 8.
Chestnut Oak
The chestnut oak is a deciduous tree with a moderate to rapid growth rate. Its rounded, dense shape is irregular in form. Chestnut oaks prefer full sun and a wide range of soils, including dry soils. This hardy grower reaches a staggering 70 feet in height and has yellow-green leaves. The leaves range from 4 to 6 inches long and in the fall turn an orange-yellow, making for a fiery landscape. Chestnut oak also has a sweet tasting acorn that grow just over 1 inch wide. They are dark brown in color and attract wildlife. The USDA hardiness zone is 4 to 8.
Pin Oak
The pin oak tree is a rapidly growing deciduous tree that requires full sun. Its pyramidal shape is dense and the branches are pendulous in shape. The pin oak tree grows up to 80 feet tall and 50 feet wide, making for a striking oak tree. The leaves have deeply cut lobes and are 3 to 6 inches long. Beginning in the fall, the leaves change to a deep bronze color. Younger pin oak trees hold onto their leaves throughout the winter, unlike mature pin oak trees. These hardy growers are also easy to transplant. They prefer a range of soil types, including wet, moist soils. The USDA hardiness zone is 4 to 8.